Name: Emely G. Guevara
From: Harbor City, CA
Grade: 11th (now 12th)
School: Narbonne High School
Votes: 0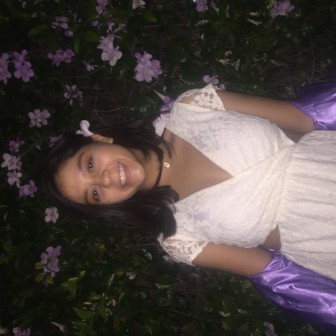 Sophomore
year I was historian in a volunteering club in high school named Team
Love. We helped mostly kids but tried doing just about everything 5
hours a month(it varied). As time progressed I later on became
President & awarded my peers other board positions. We had over
60 members. We showed them all the kinds of problems in today's
society such as how some families cannot even afford groceries. So we
reached out to a local grocery store & stood outside handing out
flyers with a list of foods they could donate to us. And so they did!
We received over THOUSANDS of dollars worth of groceries from
complete strangers willing to give!!! We then went to an organization
that revolved around helping children & their low-income families
receive assistance on getting nutritional foods they usually don't
have the money for.
The
most rewarding feeling ever is just knowing you made a difference in
someone's life for the better. After all those meals were given,
hundreds of families got bread on the table & my peers & I
thrived for trying to find a resolution in which these families
wouldn't have to worry again. So we made it a tradition in the club
to do this food drive & has been successful for 3 years. That
wasn't all of the things we've accomplished, we also played bingo
at a local retirement home, planted trees for earth day with an
organization called Tree Musketeers, cleaned our school campus, done
arts and crafts with kids that are housed at the Children's
Institute to get away from abuse, given crafts to teachers around
campus to show students appreciation & so much more!
Becoming
President of the club was hard, I didn't know what I was getting
into. I had the most responsibilities from advertising events,
gathering people for meetings, planning events, & reaching out to
organizations. I stumbled upon trying to accommodate with everyone's
input & ideas I also had no idea what I was doing my first term,
but I managed with the team work from others on the board. It was
also hard to make time on my busy schedule, with numerous AP classes,
& being apart of 2 sports, I was very busy & that's when I
learned what time management meant. Throughout my presidency I
learned how to become open-minded, to plan things accordingly, to
speak in a professional manner, & to work well with others. I
know I am going to reminisce at this experience & encourage other
young people to do the same because my experience was very
unforgettable & just enlightening because of that fact that I can
look back at my accomplishments & be thankful that I got the
chance to get others to love helping as much as I do. I feel like
this definitely shaped my views on life & made me realize that
whatever I study in college or job field I get into; it'll be to
make the less fortunate feel happy & do whatever I can to make
the less fortunate turn into fortunate!