Name: Steven Hollander
From: Philadelphia, PA
Grade: High School Senior
School: Temple University
Votes: 0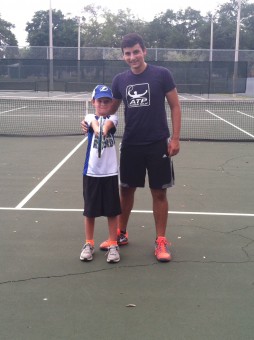 Tennis: Empower Special Needs
Youth
One hundred
decibels startle me awake as my alarm clock scowls, signaling another
day on the court. I climb out of bed, ready to face a grueling test
of fortitude. Beyond schoolwork, my day consists of four hours on the
tennis courts, one hour of intense weight lifting, and consuming
nearly 6,000 calories to nourish my body adequately. Along the way,
tennis has become my vehicle of discovery to help others fight
adversity, both on and off the court.
During my
summer training at Cal Dickson Tennis Center, I encountered Carter, a
10-year-old boy participating in a weekly clinic. His bright
personality immediately struck me; however, I observed the social
difficulties he experienced as a child with autism. Carter
exhibited a love for tennis but was limited in his desire to practice
with other kids due to his behavioral outbursts. Viewing his genuine
enthusiasm and athletic potential, I began personally coaching him
after practice, while developing my communication skills to connect
with him further. During these sessions, we worked together to create
a personalized environment that was conducive to his learning style.
For example, we repeated the same exercises each session to foster
his ability to follow directions and improve his attention span,
allowing him to shine on the court. Although I was acting as his
mentor, our relationship gave me insight into the transformative
ability of tennis to unite individuals and help overcome adversity.
Serving as a personal coach for Carter provided me with an experience
that demonstrated the significance of building on my passion for
tennis by instilling a similar athletic potential in a child. In this
instance, tennis acted not only as a physical outlet but also as a
vessel for enriching both of our lives.
Apple's
founder, Steve Jobs, once reflected that "Being the richest man in
the cemetery doesn't matter to me. Going to bed at night saying we've
done something wonderful… that's what matters to me." This quote
encapsulates my core values and principles that guide my day-to-day
endeavors. The thrill of philanthropy is in my DNA, but the essence
of it lies in its connection with the community: embracing
opportunities to help others allows humanity and individuals to
prosper. My parents, who embody philanthropic values in their
occupations and daily lives, instilled within me a strong moral
compass and desire to help those less fortunate than myself.
My goal is
to develop programs to use tennis as a way to empower special needs
children, such as "Tennis For Fun," so I can share my previous
experiences, encourage involvement from my peers, and ultimately
leave a lasting effect on disadvantaged youth. Tennis was my gateway
for community outreach; volunteering has become one of my favorite
activities and changed me overall into a more compassionate person.
Tennis was, is, and will always be a primary driver in my life, and I
envision utilizing it to continue learning as I strive to achieve the
status of being an active, multidisciplinary leader in my community.