Name: Michal Claire Williams
From: Greensboro, North Carolina
Grade: 12
School: Greensboro Day School
Votes: 1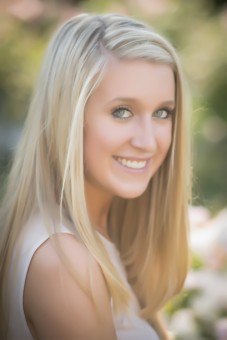 Michal Claire
Williams
Greensboro Day
School
The summer leading up to my junior year of high school I had the
opportunity to attend the national Foundation Fighting Blindness
convention in Baltimore, Maryland. My mom was an active volunteer for
the Foundation, but I had never been interested in volunteering for
them before. It was at the convention that I had a change of mind.
I spent the evening escorting a lady who was blind. This experience
was enlightening. I realized that there were an enormous number of
things that the blind live without but that I take advantage of daily
without even thinking about it. I can sit down without worrying that
there is no chair under me; I can open the car door without having to
feel for the handle; I can put on my shirt and know that it is not on
backwards. I came to understand that there are thousands of things
that I either would not be able to do or that would be difficult for
me to do without sight. Most of these things I had never even
imagined before.
When I was escorting this lady I had to tell her about all of her
surroundings. Without me she would not have known where she was or
where to go. I helped her with everything from getting into an
elevator to telling her there was nothing on her fork when she was
eating. I had never been so humbled before.
Once I arrived home from the convention I was immediately motivated
to get involved in the Foundation Fighting Blindness. I wanted to do
something that would help the blind. I decided to create my own
fundraiser.
After looking at what other local non-profit organizations had done
as fundraisers, I decided I wanted to do a holiday gift wrapping
fundraiser. I had not seen any other non-profit organizations do one
like this and from my own experience, I knew that most people
considered gift wrapping to be a nuisance. To attract as many people
as possible I decided that instead of charging a set fee for each
present, we would wrap as many presents as they brought and the
donators could donate whatever amount they wanted. I started planning
for this fundraiser at the end of the summer. I made calls to get
wrapping paper, boxes, tape, and ribbon donated. After calling
different places for several months I had gotten enough supplies to
wrap hundreds of gifts. I also had found ten people who were willing
to volunteer all day on a Saturday to wrap gifts and make this
fundraiser possible.
I advertised the fundraiser through my school, through social media,
and through flyers. I was worried that we would not have a big turn
out because I was limited on ways to advertise. However, things went
better than I ever imagined. We were able to raise $1,500. Some
people donated for the gift wrap and others came simply to make
donations. I was beyond excited to have that much money to donate
directly to the Foundation.
After Christmas I started planning what I could do next to plan the
Foundation. I spent the summer leading up to my senior year driving
an hour and a half to Raleigh once a week to volunteer at the
Foundation's North Carolina regional office. Here I spent hours
calling restaurants, hotels, movie theatres, exercise facilities, and
stores, talking with managers about what their businesses could
donate something for the Foundation's upcoming events. By doing
this I was able to raise items with a net worth of $1,500. I did not
just solicit donations, but also spent a lot of time setting up for
the upcoming events. I sent out invitations, made gift baskets,
organized binders of event information, and set up breakfasts. While
I mostly did small jobs over the summer, I enjoyed every bit of it
because I knew that in the end the money was going directly to
research to find a cure for blindness.
I want to continue volunteering regularly for the Foundation Fighting
Blindness. And after talking with the regional director, we decided
to make the gift wrapping fundraiser an annual event. While I realize
that I am going to college soon, I still plan to make the trip back
to Greensboro during the holiday season for the fundraiser. Moreover,
I plan to be active in planning for it even though I will be away.
I have already started planning this year's gift wrapping
fundraiser. Due to the positive feedback we got last year we are
going to have the fundraiser for two Saturdays instead of just one.
Moreover, Green Lincoln of Greensboro contacted me and asked if we
could partner up and if they could sponsor us by having television
and radio advertising for the event. I also am going to use gift
baskets from previous Foundation Fighting Blindness events which did
not sell and have them for auction at the gift wrapping fundraiser. I
hope to double the amount we raise this year and I hope to grow the
fundraiser every year.
As I look back I realize that I started with the idea of helping the
Foundation Fighting Blindness, but in the process I involved my
friends, my family, my school, and local businesses. I plan to
continue doing this because it will not only help the blind but will
also help me become a more productive and connected member of my
community, wherever I choose to live.