Name: Sarah Blevins
From: Glenwood Springs, Colorado
Grade: Senior
School: Glenwood Springs High School
Votes: 0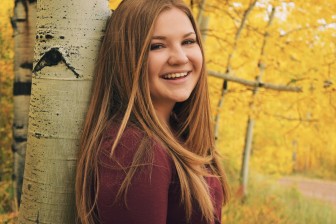 Going to college has always been a dream of mine, and my family's. I
will be the first person in my family to obtain a degree from an
institution of higher education. My parents and my grandmother have
encouraged me to pursue obtaining a degree for my entire life and one
of the big reasons I wish to do so, is to make them proud.
            Halfway through high school when I needed to begin looking at colleges and
figuring out what I want to do with my life, I began to look into
becoming a teacher. After traveling to the Sacred Valley of Peru
during the Spring break of my junior year of high school, I came to
the realization that I would be able to work with both my passions
for Spanish and for helping and teaching others by teaching English
as a second language. While there, I had the opportunity to speak
with many of the native people in the mountains of the Sacred Valley
and I came to know that a lot of the children there, especially the
girls, don't have the opportunity to receive an education. I
believe that every boy and girl in the world, no matter their social
standing, deserve that opportunity. I wish to travel to other
countries to teach underprivileged children so that they will have a
chance to better themselves and their situations like children in
countries like the United States are able to do. I was able to meet
with young girls who do not have the same opportunities as their male
counterparts to receive an education. The travel company called
Rustic Pathways and members of the company are currently implementing
schools for these girls. Being around them and hearing how badly
they wanted to go to school inspired me and ignited a passion within
me.
I am also interested in teaching English as a second language in the
United States to children of immigrants. I believe that I would
enjoy teaching these children because of the effort they put into
their work and their drive to excel in the United States. I believe
that every single girl and boy in the world deserves to be provided
with an opportunity to pursue an education. This is exactly why I
want to teach those who are hoping to succeed and flourish after
immigrating to America and why I want to teach those in other
countries who do not have the same opportunities for education that I
have had the privilege of receiving. I feel a responsibility to
provide knowledge to children everywhere in order for them to be able
to grow and better their situations if they wish to. I have
participated in the Peer Counseling club at my school during my
junior and senior years at GSHS. This club has allowed me to get to
know my peers who are struggling by helping them with any issues they
have including those concerning their academics. By understanding
the struggles of different people in my school has allowed me to
understand that different people struggle with different subjects;
everyone has their strengths and their weaknesses.
This scholarship will make a difference in my life because it will allow
me to go to college. I will be the first in my family to earn a
degree and it is both mine and my family's dream for me to do so.
My single mother is the sole supporter of my education and she is
willing to do whatever she needs to for me to attend college. I hope
that I will be able to receive this scholarship so that I can take
some of the extraordinary burden of financing a college education off
of her shoulders; she's my biggest fan and I just want to make her
proud. I intend on majoring in Education and minoring in Spanish in
order to teach English as a second language. I hope that I will
receive this scholarship so that I can achieve my dream of being the
first of my family to graduate from a university.