Name: Ariana Murray
From: Ledyard, Connecticut
Grade: Junior
School: dahliari@aol.com
Votes: 0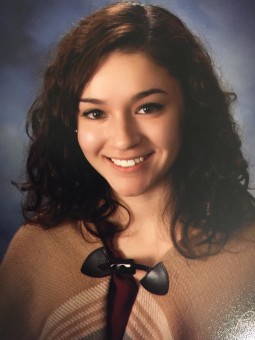 One of my favorite things about my high school is all of the
opportunities we as students have to help the community. I have
served as Junior Director and Vice President of Key Club, a service
organization sponsored by Kiwanis International for high school
students. I am proud to say that I have been active in Key Club for
all four years of my high school career. We meet bi weekly.
By working with this
organization, I have been able to work in different areas of need.
Our most active fundraiser has been for Alex's Lemonade Stand, which
raises money to fight childhood cancer. We also have coat and canned
food drives in the winter. The canned goods go to our local food
bank while the coats are distributed at a homeless shelter. Each
fall, we participate in Trick-or-Treat for Unicef. We have also
helped our local library sort books for their annual book sale,
served as chaperones at an elementary school dance, and organized a
team for Penguin Plunge to benefit Special Olympics.
One of the biggest
challenges I have as an active volunteer is finding a balance between
all of the ways in which I would like to help and my school, work and
family obligations. I truly enjoy helping other people. I find it
very rewarding to look beyond myself to see the global impact that
small acts can make.
I've learned
responsibility, organizational skills, how to meet deadlines,
networking skills and so much more from my four years with Key Club.
Because we have large service projects, attention to detail is very
important in order to make everything run smoothly.
My goal is to become
an elementary school teacher. I
realized I want to pursue this career when I started working after
school at a local daycare. Seeing the bright and smiling faces of the
children in my care everyday made me focus and put things into
perspective; I want to inspire children to be courageous, determined,
and hopeful and caring, which are qualities our country needs. The
world we live in today would be very different if, at an early level
in school, children were not only educated with math, science, etc.
but also socially, too. I hope that the small acts of volunteerism I
am doing now will further these qualities in our future generation.
Some
people may think, "I am just one person. What difference will I
make?". Small acts of kindness all add up. The more people we
have doing little things will combine and create great results. I
believe that everything we can do to help our communities will make a
difference that will echo for years to come.