Name: Alex Chan
From: HERCULES, CA
Grade: 11
School: Hercules High School
Votes: 0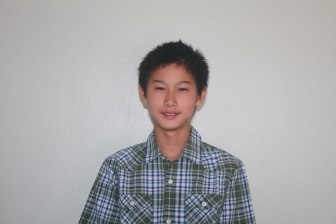 To
graduate, students are required to complete twenty hours of service
learning. Normally, people wait until senior year to complete the
requirement, but my best friend introduced me to the Teen Youth
Council (TYC), encouraging teens to volunteer in the community.
With
a group of motivated students, I was given the task to organize a
Halloween event for children at the Hercules Swim Center. Wednesdays
after school we would put up decorations, create posters, brainstorm
activities, and advertise the event to friends and family. The unity
among the members and the shared goal of helping kids enjoy their
Halloween taught me not only the value of teamwork but how much a few
dedicated people could do to help the community.
That
Halloween, instead of spending my time trick or treating, I was busy
helping children have fun, cherishing their smiles and sharing their
laughter. The event was a huge success, well received by hundreds of
parents, as well as children. Soon we organized cleanups at the park,
gingerbread house decorations for a Christmas party, and a massive
egg scavenger hunt during Easter. TYC didn't only give me an
opportunity to give back to the community but also held me
responsible for my decisions in events as a coordinator. Dozens of
food drives and holiday parades later, we were known by hundreds of
families in the community as a small group of students that were
motivated to improve the environment of the city, socially and
physically
Today,
the Hercules Teen Youth Center supports the community with social
activities and special events. We participate at City Council
meetings, interacting with the Hercules Senior Center and their
participants, with the planning of special community events. T.Y.C.
Members also serve as an advisory board to the Hercules Parks &
Recreation Department, Community & Library Services Commission,
and the Hercules City Council to provide a younger perspective to
youth related issues.
T.Y.C
taught me the importance of responsibility, and what it means for a
student to be a part of something bigger than themselves. Over the
years I have learned the basics of organizing, funding, and
advertising special events that we host, which I can apply to how I
am going to live during college. This program has opened a whole new
world outside of just education, and rather than focusing on what I
can do for myself, I now look towards what I can do for others.
Seeing passionate students work towards the same goal of giving back
to their community is what drove me to come back to Teen Center every
Wednesday and make sure that we would have a great time preparing for
an event. What the Teen Youth council taught me was how much a small
band of students could do for an entire city, which was bringing
smiles upon hundreds of cheerful children's faces. I also know that
we couldn't have done it without the help of our advisors Jeff and
Melinda, and behind every great team is a great leader. Looking
forward, I hope to seek out opportunities to give back to the
community and spread positivity around not only the campus but to the
entire community. Forward-looking to me means working towards the
future in hope of a better tomorrow for our youth.