Name: Katheryn Rae England
From: Esparto, California
Grade: 12
School: Esparto High School
Votes: 0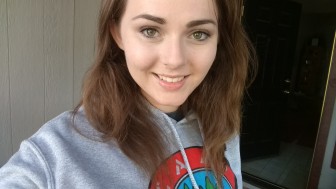 For the past seven years I have been part of my church's youth
group wherein our biggest activities are service projects. I have
mainly been tailoring my efforts towards increasing youth
involvement. My responsibility is to plan and organize service
projects as well as encourage others to join service projects. I
chose to be a part of this youth group so I may better serve my
community with others who care and want to make a difference in the
world. I meet with my youth group weekly, and do one main service
project a month in various ways throughout our community. As a
volunteer, it has been difficult when I cannot find others who are
willing to serve or when the service we do goes unrecognized. When my
youth group and I finish our service projects and go unnoticed or
unrecognized, it leads us to believe we aren't making a difference.
To feel alone when trying to help others has deterred me occasionally
from choosing to continue serving. I become dismayed and disappointed
after doing something that should make me feel good. It took me a
great leader in my life to teach my group and I that satisfaction
doesn't come from another's gratitude but from pride in the work
you've done. Our group has learned how to work as team and how to
appreciate the work we do without recognition. The greatest
satisfaction I have felt as a volunteer has been hearing weeks later
that a project I was a part of is being appreciated. To know the work
I have done was appreciated is all I need to hear to know it was
worth it.
Due to my youth group serving in various ways, over the course of
many years, I have had experience in a wide range of activities. I
have learned how to sew, cook, dance, organize, time manage, and many
other skills. These activities have helped me in my schooling, home
life, as well as increased physical health. My talents and skills
have developed as I learn how to lead others, to be patient, and to
try new things. This personal development gives me confidence as I
head into a new part of my life after graduation. I will be continue
school at a higher level and will focus on my future like never
before. To be "forward looking" to me means that I will focus on
my future in all aspects with confidence. As I look forward to my
future, having confidence in myself, I hope to inspire others that by
volunteering, they too can accomplish whatever they set their minds
to. I hope to inspire them to be anxiously engaged in volunteer work,
to find a passion, and look forward to their futures with confidence
and hope. In ten to twenty years from now, as long as I see youth
continuing to serve within my community, I will feel I have made a
difference simply by setting an example.