Name: William Carl Kemp
From: Louisville, Kentucky
Grade: 11
School: Eastern High School
Votes: 49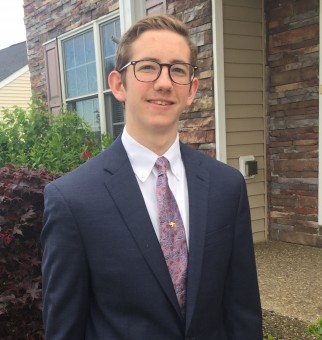 Youth
Forward
William Kemp

I am currently a senior at Eastern High School where I volunteer in
the Eagle Enrichment program. Eagle Enrichment is a student education
tutoring service offered to 9th through 12th grade students.
I tutor a wide range of students in various math and
science categories (geometry, calculus, chemistry, etc.) A tutoring
session lasts one period, about 50 minutes, twice a week for 6 weeks.
Starting September 1, 2016, I have tutored 10 students, helping
students prepare for the ACT, ace chemistry tests, and understand
algebra homework. The most common theme throughout the students I've
tutored has been the lack of intrinsic motivation to put in effort
rather than not knowing the material. The biggest challenge by far is
getting students excited to learn and to set goals for their future.
After two or three tutoring sessions, students tend to gain interest
in new ideas and start to understand why what they are doing is
important rather than another item on a checklist. My favorite quote
from one of my students, "Before, I was really confused by what my
teacher was saying, but to hear the same thing explained by another
student really clears everything up." Hearing the changes in how
the students are improving is the most satisfying part of tutoring.
Like any teaching job, I learn as much from my students as I teach
them. Learning how to communicate with someone who is struggling and
being able to encourage others are two valuable skills that tutoring
has taught me.
Going to college, I plan to use my tutoring skills in study groups or discussion
tables. In my opinion, tutoring is one of the most forward looking
activities anyone could get involved in. Tutoring allows someone to
see both sides of the learning environment, as the student, and the
teacher. Forward looking means to be able to make a difference in the
future, and I strongly believe that the Eagle Enrichment program will
not only have a positive impact on myself, but also the hundreds of
tutees touched by it. I hope more and more people realize that
education is extremely important, especially in the modern society we
live in today. I think that I have made a difference for many
students by helping them realize the chain of events that occur after
high school. Even by helping someone to raise a failing grade to
passing will affect them for the rest of their life by not being held
back an additional year. I greatly value my time being able to work
with students and I hope others follow suit in the education
movement.