Name: Rebekah Apicello
From: Saint Charles, Missouri
Grade: 10
School: Francis Howell North High School
Votes: 0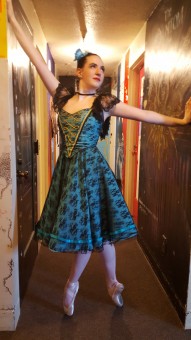 I
volunteer as an assistant teacher at my local dance studio for at
least an hour a week, and have been for two years now. I already take
dance classes there for 15-20 hours a week, so it felt like the best
way to give back to a facility that has provided me with so much. As
an assistant teacher, my job is to demonstrate combinations for the
kids, give them corrections and advice, and help them prepare for the
cumulative performance at the end of the season. My biggest challenge
has been to learn how to properly disseminate information to third
graders- things that are second nature to me while I'm dancing
aren't as ingrained in them, so I needed to learn how to articulate
my actions into words. It's all worth it though- I love looking
back at the end of the year and realizing how much the kids have
improved and grown, and knowing that I helped contribute to that. I
feel being given this chance to work with people five to ten years my
junior gives me an awesome insight into the next generation of
thinkers and innovators, and I love that I can help influence traits
like persistence, patience, and creativity, things that will follow
them to whatever field they pursue when they're adults. Dance is a
constantly evolving art form, and instilling kids with that sense
makes this feeling like a very forward-looking position. The dream is
that one day, one of the kids I helped teach will come back and tell
me that I motivated them to keep dancing. I truly believe that is
possible- I do my best to model proper studio behavior, and they see
me go from teaching their class to taking my own classes, and I take
every chance I can to use positive reinforcement of technique. Even
if they quit dance classes a year or two after I have them, I think
that my kids will look back at me fondly and realize that I helped
give them the qualities I described earlier that made them harder
workers and more creative thinkers in their academic and recreational
activities.