Name: Zuhair Al-Bahrani
From: Mendham, New Jersey
Grade: Grade 11 (Currently in Grade 12)
School: West Morris Mendham High School
Votes: 0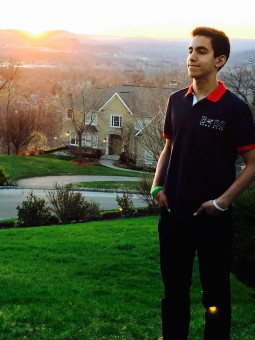 Ever
since I was a child, I have wanted to become a doctor. This ambition
was crystallized during the spring of 2016, when I accompanied my
grandparents to a refugee camp in Amman, Jordan for families escaping
the violence in Syria and Iraq. I helped my grandfather, a
gastrointestinal surgeon, as he examined patients suffering from
cholera and other diseases of the digestive system. I then joined my
grandmother, a gynecologist, as she checked on some mothers of newly
born babies. I tried to calm some of the crying babies and make them
smile, by making faces and holding their hands. I cherished the
ability to participate in bringing joy and relief to these
unfortunate people.
This
experience allowed me to witness the deplorable conditions that some
must live in, and their urgent need for medical attention. There is a
sense of achievement in helping the sick feel better, which is
amplified when they are living in such adverse conditions. Since
then, my mission has been to become a doctor and help people,
locally, nationally and internationally (especially, those living in
medically underserved areas in the United States, and in refugee
camps around the world).
I
intend to major in Neuroscience while pursuing an undergraduate
degree, as I am interested in the study of the Nervous System and the
mind. Additionally, I aspire to apply my love for neuroscience to
help resolve one of the most significant issues of our generation:
the refugee crisis.
According
to The UN Refugee Agency, in 2015 there were over 65 million people
forcibly displaced worldwide. Given my Iraqi background, I aspire to
learn more about this global catastrophe and the individuals affected
by it. Ever since my visit to the refugee camp in Jordan, it has been
my mission to become a physician so I can volunteer my services to
help these people. The impact of forcing people to leave their homes
and their way of life behind will be extremely consequential, as they
have been denied the most basic of human needs, such as their feeling
of safety and security. I want to study the psychological state of
the children, and how this can impact their behavior. I will gather
the data by conducting interviews and surveys with children at the
camp in Jordan. I will also collect data from refugees relocated to
the United States, in two groups: refugees who have been recently
moved to the US and refugees who have been here for at least two
years. In this manner, I can compare the data of refugees in Jordan
with those in America to determine the environmental impact, and I
can compare the data of refugees who just arrived in America with
those who have been there for an extended period of time to determine
if the effects are long lasting. This research will improve our
understanding of the trauma experienced by refugees, and may help
find new ways to improve their resettlement process and the
commencement of their new lives.