Name: Alexa Kaufman
From: Pembroke Pines, Florida
Grade: 11
School: Pembroke Pines Charter High School/ Florida State University
Votes: 0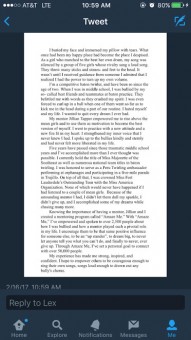 I buried my face and immersed my pillow with tears. What once had been
my happy place had become the place I despised. As a girl who marched
to the beat her own drum, my song was silenced by a group of five
girls whose rivalry sang a loud song. They threw many sticks and
stones- and feet to the head. It wasn't until I received guidance
from someone I admired that I realized I had the power to turn up my
own volume.
I'm a competitive baton twirler, and have been so since the age of two.
When I was in middle school, I was bullied by my so- called best
friends and teammates at baton practice. They belittled me with words
as they crushed my spirit. I was even forced to curl up in a ball
when one of them went so far as to kick me in the head during a part
of our routine. I hated myself and my life. I wanted to quit every
dream I ever had.
            My mentor Jillian Tapper empowered me to rise above the mean girls and
to use them as motivation to become the best version of myself. I
went to practice with a new attitude and a new fire lit in my heart.
I strengthened my inner voice that I never knew I had. I spoke up to
the bullies kindly and sternly and had never felt more liberated in
my life.
            Five years have passed since those traumatic middle school years and I've
accomplished more than I ever thought was possible. I currently hold
the title of Miss Majorette of the Southeast as well as numerous
national team titles in baton twirling. I was honored to serve as a
Peru Twirling ambassador performing at orphanages and participating
in a five-mile parade in Trujillo. On top of all that, I was crowned
Miss Fort Lauderdale's Outstanding Teen with the Miss America
Organization. None of which would never have happened if I had
listened to a couple of mean girls. Because of the astounding mentor
I had, I didn't let them dull my sparkle, I didn't give up, and I
accomplished some of my dreams while chasing many more.
Knowing the importance of having a mentor, Jillian and I created a mentoring
program called "Amaze Me." With "Amaze Me," I've empowered
and spoken to over 2,500 people about how I was bullied and how a
mentor played such a pivotal role in my life. I encourage them to be
that same positive influence for someone else, to be an "up
stander", to dream big, to never let anyone tell you what you can't
do, and finally to never, ever give up. Through Amaze Me, I've set
a personal goal to connect with over 50,000 people.
My experience has made me strong, inspired, and confident. I hope to
empower others to be courageous enough to sing their own songs, songs
loud enough to drown out any bully's chorus.