Name: Madeline Wilbur
From: Beachwood , Ohio
Grade: 11th grade
School: Beachwood High School
Votes: 0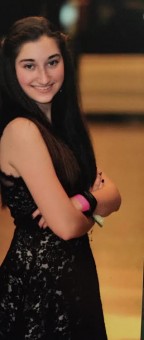 Victories of Volunteering
Maddy Wilbur
I
volunteered at the nursing home near me, Menorah Park, the summer
after eighth grade and this past summer, for a total of almost 160
hours (not counting the two-mile bike ride there and back every
day). As a volunteer, I have helped the residents with jewelry-making
and art projects, in addition to serving food at their diner. I
also volunteered with the kitchen staff, helping them clean and set
tables for the fancy Friday night dinners.
One year, I got the opportunity to volunteer at the daycare the
facility had for faculty's children, and that sparked my interest in
developmental psychology, my major this fall. My biggest challenge
was definitely patience – whether working with hard-of-hearing
elderly residents or hyperactive children, I had to learn to stay
calm.
The best moment I had working with the kids was when a little
boy named Tommy heard I was leaving and brought me a flower to say
thank you. It was such a sweet, genuine gesture that it really
touched my heart, and I still have the dried flower. Working
with the elderly, it was when I passed one of the residents I had
grown close with over the summer with her granddaughter, and
she pointed to me and said, "that's my friend I was telling
you about." The fact that she had been speaking of me, and
considered me a friend, made me smile for the rest of the day.
Like I said before, seeing children and seniors in the same location
really piqued my interest in the brain, and in psychology. Seeing
what skills the two groups had, how different and yet how
similar they were, was really fascinating to me. As a descendant of a
Holocaust survivor, the resiliency of the Holocaust survivors at
Menorah Park was interesting to me. Some of those residents were
closed off and some were engaging, and it was a great learning
experience to see that difference, despite having survived
similar circumstances. My volunteering was "forward looking"
because it allowed me to choose my career path, in addition
to exposing me to people who had long lives and given me plenty
of advice about it. It helped me "look forward" not only to
the immediate future – my major – but made me consider what I will be
like in old age: will I be satisfied? Will I be kind to everyone?

I won't pretend to think that my actions are changing the world at
large, but I know they change the world of the people I am helping.
For people like the woman who considers me a friend and Tommy,
hopefully I have left as great an impression on them that they did
me. I'd like to think that my volunteering has "made
a difference", although it may not be a large one. The
residents may not remember me, but I bonded with the staff and my
fellow volunteers, and I'd like to think I made a difference to
them, even in the smallest way.