Name: Travis Ashley
From: Las Cruces, New Mexico
Grade: Senior
School: New Mexico State University
Votes: 1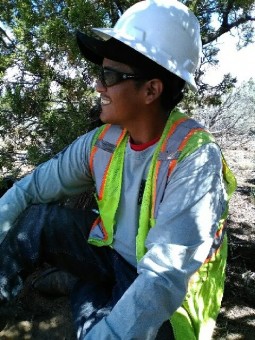 A
Voice to Be Heard

My name is Travis Ashley, I'm
an undergraduate from New Mexico State University in Las Cruces, NM.
I'm a senior in the Bachelors of Kinesiology Clinical Exercise
Science and certification as a Strength & Conditioning Coach. I
graduated with my associates in applied science in May 2014 from
University of New Mexico. My major is Physical Therapy/Exercise
Science. My plan is to bring emotional and physical awareness to the
Navajo Nation about health, sports, training, physical education
among the people.
The
program I have spent my last nine years as a mentor/role model and
friend is the Youth Conservation Corp of Gallup, NM. The job
opportunity is given to students who are 15 to 24 years old seeking
summer/seasonal employment that have a 2.0 GPA from high school,
junior high school, or college. I started working in the program as a
youth laborer finished my four years learning from mentors before me.
I came back after my fours year to focus on making a bigger positive
impact on the youth. Youth Conservation Corp is a program which focus
on the environment, community, and the tourism of Gallup Trails. My
focus I wanted it to be on the youth of different races, the bigger
impact I wanted to make was on the youth of the Navajo Nation. Navajo
is a tribe, Native Americans for the past few years have been
included in history for the US to understand who we are, where we
come from and what growth we can bring to the world.
In
my job description as a supervisor for the youth is to manage,
implement and teach job skills that will aid them into the adult
world. Those type of job skills vary each year because of what
projects we are given for the community and environment. Those job
skills are communication among fellow coworkers, implement tools such
as pick axe, axe, mcloud, handsaw, pruners, whoppers, rock bars,
wheel barrels, boulder stretcher etc. The most important skills
taught in my team is public speaking, project management, wilderness
training, safety procedures, teammate dependability and the family
bond concept. Each kid that is hired upon the program is either under
the influence of drugs, alcohol, domestic violence, alcoholism in the
family and depression. What my primary goal is to bond with each
youth worker, tell them that they are not alone, make them feel a
part of the family and teach them about concepts of life. My goal for
each year is to have two individual youth workers gain one another's
trust as in, "You have my back, I have your back when time gets
rough, my brother/sister will have my hand till the end."
The
projects we have made a big impact are the construction of organic
school gardens at elementary schools around the Gallup and Navajo
Nation area. We have constructed nine school gardens for classes to
have teachers/parents engage with their kids on how to plant produce
in small areas. In the process the child begins to understand where
healthy food comes from, how it is made and what positive influence
they have made in their school. Also, we have constructed the Hope
Garden at the Gallup Community Food Pantry that is used to help feed
low income, no income families with fresh organic food. Rain
collector tanks, green houses, raised garden beds, ziggurat style
stone wall were constructed for the health of families in Gallup, NM.
What I specialize in is Gallup Trails tourism of New Mexico in cross
country single track mountain biking trails, under these projects I
teach different groups of youths on construction of trails,
wilderness awareness, water conservation, erosion control, fire
prevention in the forest, animal classification, first aid, and
communication. The High Desert Trail System which is US top
recognized professional trail systems that were
constructed/maintained by years and years of hard work from the
youth.
The
hardest part of the program is mentoring former youth employees after
their four years done, most of my youth became team leader and
promoted to supervisors to be a role model for the next generation
after them. The biggest emotional challenge is hearing the stories of
the youth, some of them came from no parents, parents under
alcoholism in the streets, domestic violence, victim of rape or
bullying and that makes me feel like a piece of my heart was taken
from me. Over the years getting to know everyone we become a family,
hearing their stories makes me want to continue my path into leading
the youth for a brighter future. I have so much to say, stories,
projects and what I can bring into the lives of kids.