Name: Wendy Lara
From: San Luis, Az
Grade: 11
School: San Luis High School
Votes: 0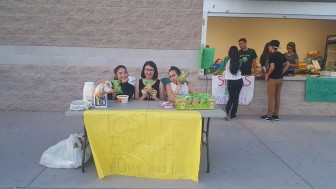 I have leadership
skills and because of that I was chosen to be the fundraiser
committee for the cheer squad at my school. Raising over $1,000 for
the squad to be able to go to competition.I did over 15 hours of
volunteer per week. I was a member of the cheer squad as well,
dedicated to learn new techniques and new skills. Being a cheerleader
taught me problem-solving skills, how to work as a team, public
speaking in assemblies, regulating rules, training and toleration.
Throughout my middle school years I would do volunteer with my math
teacher, grading papers,cleaning her room and inputting grades. Along
with helping my math teacher,I would also help out in the office,
with parents in need,filing,delivering papers,and other things I was
needed for. Once I entered high school, I kept my reputation by
helping out in my elementary school in the office and with a second
grade teacher in whatever I was needed for such as making copies.I
kept helping out my math teacher doing the same thing. Technically, I
have been volunteering for over 5 years now. In my junior year I
started to help out an english teacher in grading papers as well. In
school I had an orientation class in which my current math teacher
needed help babysitting her son. Even though it was only 30 minutes
per day, I would complete at 2.5 hours a week with caring for a
3-year old. I would at least do 12 hours of community service a week.
For any questions regarding my volunteer work contact Lucia Alvarez
in lalvarez@gesd32.org and Omelisa Daniel in odaniel2217@gmail.com.
My interest is technology such as looking at videos on how to fix
phones,laptops and any other electronic device. Every saturday, I go
to a business to learn an fix phones so that I can be prepared for my
career.The best satisfaction is to see teacher who's job is very
difficult have at least something less to worry about.The biggest
challenge as a volunteer was getting to organize myself towards
serving various teachers in need.In fact I even fundraised for my
cheer squad at games.