Name: Alyssa Arlene Wells
From: CONWAY, Arkansas
Grade: Freshman
School: Conway High School
Votes: 42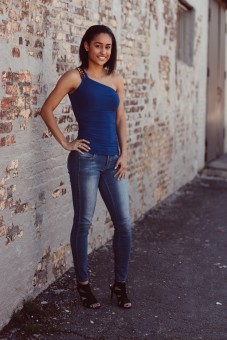 What is the area in which you have chosen to volunteer (e.g., homelessness,
anti-drunk driving, youth art programs, etc.)? Why did you choose it?
I chose to volunteer in senior citizen assistance program. Our basketball team
traveled to a senior citizen center and we all got assigned to a
senior citizen. We spent the day with them and did anything that
they wanted to do. We talked, listened, laughed, played cards, and
ate dinner with them. Older people deserve have spent their whole
lives giving and providing for others, and I think they deserve that
respect back. I feel it is time for someone to care about them when
they need it. We also volunteered to assist in teaching the younger
generations how to play basketball and volleyball. We interacted and
encouraged youth to put their best foot forward in everything that
they do. The impact a coach has on a youngster is about 90%
throughout their HS career. Peers have even more influence on
upcoming youth. They look to us for guidance and support. They also
look to us as their role models for what they want to become and how
they want to be when they grow up.
How many hours per year / week / month have you volunteered?

About 200 hours per year. I would love to volunteer more if my
finances/time constraints would allow.
What are /were your responsibilities as a volunteer?
We worked on becoming a companion, almost family, to the elderly and providing a
sense of comfort for their surroundings and look more positive on
their life. Some of these people have no relatives that visit them
and it's nice to add some joy to their lives after all they have
given to the world. We worked on engaging youth and obtaining the
best results from them. We wanted to give them the best
opportunities for success in every aspect of the game and how to
implement these lessons throughout their lives.
What has been your biggest challenge as a volunteer?
There is always that one child or person that alienates from the rest of the group
and appears hard to reach. When I come across someone like that, I
try harder to it makes it all the more worthwhile when you win them
over. It is nice to know that you made a difference in someone
else's life. I usually am very busy with school, work, and sports,
so another challenge was finding the time to fit volunteering in. I
love to help people but it is difficult to arrange time accordingly
when you have so much going on.
What has given you the most satisfaction as a volunteer?
It helps me reduce my own stress by focusing on others and provides me with a
sense of purpose improving the health and happiness of others.
What have you learned from your volunteer position?
I think volunteering has taught me valuable job skills and build upon skills
that I already possess to benefit the greater community.