Name: Mahogani Counts
From: Powder Springs, GA
Grade: 11
School: McEachern High School
Votes: 0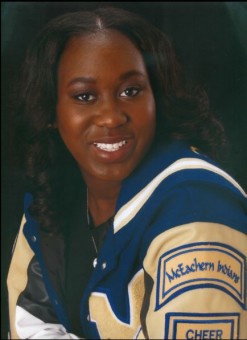 Being a volunteer in many organizations has shaped me into the young woman
I am today. I have been blessed to be a part of programs in my
community that have impacted people's lives. I enjoy participating
in organizations in my community such as: Hosea Feed the Hungry, Keep
Cobb Beautiful, Shop with An Indian, Books For Africa, Pick it up
Powder Springs and more. The reason I enjoy volunteering in these
organizations is because I love giving back to my community.
Community volunteer work gives me joy because I love knowing that I
am directly helping people around me.
I do most of my volunteer work on the weekends through a program I am
apart of called Delta Gems. The program is centered around young
women becoming leaders and learning the importance of community
service. My hours of volunteer work per month would be 7 hours. Along
with this program, I also am apart of student council in my school
and we often do volunteer work in our community. In this club, we
focus on giving back to the community by volunteering to read to
children in elementary school, or making care packages for homeless
people.
My favorite organization to volunteer for is Shop With An Indian. This
is a program at my school that takes unfortunate students in
elementary school Christmas shopping. My responsibilities vary per
organization I volunteer for. I tutor students in Spanish, so I make
sure the students understand the content and I grade practice
quizzes. When I do community work, I make sure to take direction from
a supervisor and contribute anyway I can. For me, the biggest
challenge in volunteering is consistency in volunteering. Due to the
reason that I am a full-time student, it becomes difficult to
volunteer as much as I want to. Although there are challenges, the
biggest satisfaction from volunteering is knowing that I am helping
someone in need. Whether it's by cleaning up the streets in my
community or by collecting food cans for local shelters, I enjoy
helping wherever I can.
The most important value that I have learned from volunteerism is that
there is always a time and a place to offer your time to help someone
else. There will always be a place in my heart for volunteerism. For
my future, I would like to work as a senator of the great state of
Georgia. With this platform, I would like to represent my state by
working with non-profit organizations to help the homeless shape
their lives. I would like to see the youth get involved with more
opportunities like these to understand the severity of making the
world a better place. In about 10 to 20 years I hope to see the
impact that I have made on people along with my community. I want to
specifically get youth involved because they will be our future
leaders.