Name: Avery Qassis
From: Frederick, MD
Grade: 11
School: Tuscarora High School
Votes: 0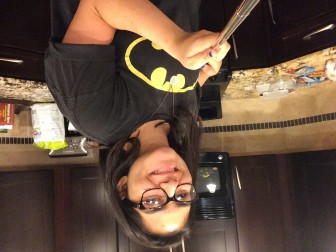 Avery Qassis
Scholarship
Helping others is
my passion. In the summer of 2016 I was lucky enough to volunteer
with children from low-income families at The Frederick Rescue
Mission in Maryland, as well as help repair homes of residents in
Pittsburgh with The Pittsburgh Project. Both volunteer experiences
were done through my church and I chose to partake in both
experiences because I sincerely enjoy helping those in need.
I spent about
seven hours a day for a week during the summer with the Frederick
Rescue Mission. During this week, I spent time with children and
tutored them in math and reading to prepare them for the upcoming
school year. Throughout the week, I grew close to the kids and was
able to reflect on my life and appreciate the things in my life that
I take for granted.
With the
Pittsburgh Project I spent a week living in the city and helped
repair the home of a local resident who could not afford to make much
needed repairs. The home owner I helped was named Rita. Rita was a
lively, joyful, caring and inspirational woman. Rita had a positive
attitude the week I was there to help her and she would constantly
reassure my group of how grateful she was that we were available to
help her. Specific work that I did on this trip was repainting the
front porch, porch railings, porch furniture, and painting a room in
the basement with waterproof sealant to prevent water leaks. These
were projects that Rita would not have been able to afford on her
own, so I know that our help was much appreciated. Her appreciation
made the week for me that much more worth it!
These two
volunteer experiences were during two different summers, but somehow
both ended up being the week of my birthday. Volunteering on my
birthday was easily one of the best decisions I've ever made. The
feeling of helping others on a day that is supposed to be about you
is incredibly rewarding, it puts emphasis on the idea of giving back
rather than receiving. Having a birthday during both weeks was one of
the biggest challenges but also provided the greatest amount of
satisfaction for me.
I also teach
preschool classes 3 to 4 days a month in my church and I volunteer as
a camp counselor during the summer. I truly enjoy working with kids,
they are always happy and interesting to talk with. Working with the
kids in my church is what encouraged me to sign up for a mission trip
to Guatemala. This upcoming summer I will be going to Guatemala for a
week with some members in my youth group. During this time, I will be
interacting with local children through sports, arts, and school
subjects. I do hope to continue working with kids and so that I may
have an impact on them in positive way when I head off to college at
Towson University.
In the future, I
think my decisions to volunteer will have a positive impact on all
involved. Any kind gesture, whether it is big or small, can have a
big impact on someone's life. Hopefully the children and people
around me can take something from the work I do; but if not, I know
that It has made me a better person and I will continue to do my best
to help those in need. Each time I volunteer it gives me a new
outlook on life and reminds me to always remain humble and remember
to be kind, because everyone is fighting their own battle.