Name: Gena Cliatt
From: Wimauma, Florida
Grade: freshman in college
School: Florida A&M University
Votes: 1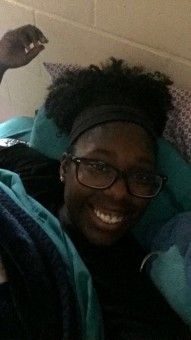 Volunteering is one of the most important things you can do as a
person. Volunteering allows you to see what people go through and
what they are trying to do to get out of the situation they are in,
whether it is feeding the homeless or volunteering at a rehab center.
When volunteering you can learn what not to do when dealing with
tricky situations and you learn how to be less self-centered and
egocentric.
I often find myself volunteering in feeding the homeless. I do this
because I like giving back in aa way and I know that at any moment I
life that could be me that don't have a home, where I can sleep and
trying to survive with no money nor food. So, when feeding the
homeless it makes me more grateful and appreciative of the things
have and teaching me not to complain about the things I don't have.
I volunteer at my church, so I would say I volunteer three times a
year but because I'm in college. But while I'm in school I try my
best to find something I can be involved with and try to volunteer
every way I can.
My responsibilities as a volunteer, was to serve the homeless people.
I would fix their plates and bring them the breakfast, then ask if
they wanted anything else. My biggest challenge when volunteering
must be when you have that one rude person, what I learned you still
must remain calm because you don't want how you acted to reflect on
the center or church in a negative way. When I am volunteering the
thing that gives me satisfaction is when I see the little kids that
are homeless and I take them into the room and we play board games
and stuff to show them that we can have an enjoyable time. But it
Makes me sad as well because I hate to see little kids that are
homeless and don't have food to eat nor a place to sleep. So, I try
to make their visit better and fun as possible.
From my volunteer experience, I have learned that you must remain
humble because that could be you at any given moment or time. The
most important thing to have when volunteering or feeding the
homeless you must have patience with the guess/visitors because some
of the people that come in the building can be a handful but you must
get to know them and then you will understand what went on in their
lives and how did they get to this point in their lives. Forward
looking means that you are looking ahead to what you want to
accomplish like 10 years from now or even till this moment. Also,
forward looking you should be planning for your future the kind of
change I want to accomplish in the world is helping little children
telling them that they can make and just boosting their self-esteem.
If I were to come back I think I would've made a difference because
most people would remember how respectful I was.