Name: Meygan Garcia
From: Ocala , Florida
Grade: 10th in 2015-2016
School: Forest High School
Votes: 0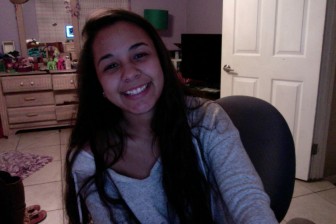 Volunteering
throughout the community has been a great part of my life. The
feeling I get when I give back to my community brings me great
satisfaction and a sense of accomplishing something greater than
words can express.
I
am an active member of my church, Blessed Trinity. On Sundays, the
children of our parish are invited to attend eSunday School, where
kindergarten through 8th graders learn the pathway of God. After I
myself completed the program in the 8th grade, I began to volunteer
at Sunday School. Not only has it been a great volunteering
experience for me, but it also brought me closer to my God. I have
volunteered with the 5th graders helping them learn more about God
through teaching and activities.
At
the high school in which I attend, I participate in a club called
ATLAS, which is an all girls community service group that volunteers
throughout the city. We volunteer in different area and where we are
needed. For example, one week we'll work at an elementary school,
the next at the mayor's dinner, and the following at a community
festival where everyone comes out and celebrates. I am also in ATCS,
American Teen Cancer Society, which participates in activities that
help raise money for cancer research. I have volunteered at Relay for
Life and have baked cupcakes for the school raising money which goes
to cancer research.
Through
my schooling, I have developed a love for the medical field. At the
end of my freshman year, I started volunteering at my local
hospital in the summer. Some of my duties were to transport patients
to and from doctor's appointments, assisting in discharging them
from the hospital and other patient services. I have continued every
summer to volunteer at the hospital which allows me the opportunity
to get a glimpse of the medical field in which I plan to continue my
studies in.
I
have also been a member of Youth United Way since sophomore year.
This organization is a huge contributor to the community in which i
live and world wide. I am most proud of being a contributing member
and this year, was on the Board responsible for helping recruiting
and interviewing new members.
I
volunteer anywhere between ten to fifteen hours a month. My
responsibilities vary for each different organization but I am always
prepared to do my very best and perform to the best of my ability.
The biggest challenge of volunteering is figuring out which
organization I can make the most difference with. I would like to
know that my time and effort is helpful to someone. The most
satisfying think about volunteering is knowing I made a difference.
One of the most satisfying parts of volunteering is working with
children and teaching them that any contribution of their time and
effort will make a difference as well!