Name: Charles Evan Prentice
From: Battle Ground, Washington
Grade: 10th
School: CAM Academy
Votes: 0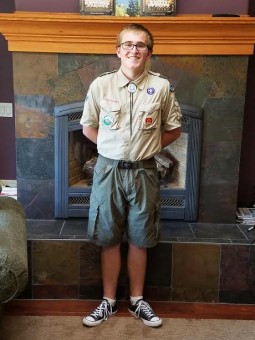 A
Volunteering Career
By:
Charles Prentice

People
should not volunteer to be cool, but to give back to the community.
No, people should volunteer because they enjoy helping people,
and desire to impact society in a way that matters and benefits more
than just themselves. This is why I believe that volunteering
is something everyone needs to dedicate a portion of their time to
do.
I am 17 years old and have given
back to hundreds of people in a way that will impact them for the
rest of their lives. I am not talking about impacting adults or
teens, but Cub Scouts. For the past four summers I have volunteered
my time as a staffer at Camp Lewis. As a staffer, it was my
responsibility to teach Cub Scouts various skills such as knot tying
and cooking while at the same time keeping them interested and eager
to learn. My experience as a staffer was amazing. I loved
teaching scouts new skills and I greatly enjoyed leading group songs,
like Bazooka bubble gum.
I myself have
spent ten years going through Cub Scouts and Boy Scouts, which is why
I chose to be a Camp Lewis staffer. Participating in the scouting
program has been such a wonderful experience for me, so I decided
that I would help lead and encourage younger scouts to follow the
scouting path.
Unfortunately,
my staffing days are over, but my volunteer career is not! Currently
I am participating in a church organized program, called "Love
Vancouver" where we clean up the community through activities like;
yard work and trash pickup. This year I have also become a member of
the CAM Academy Interact Club. So far I have participated in bake
sales, food drives, and tree replanting at Klineline Pond.
Time
has posed the biggest obstacle throughout my volunteer career,
especially over the summer. Summertime is when I am most active as a
volunteer, which is also when I spent months as a staffer. I
work full time, which is about eight to ten hours a day, five days a
week, for seven weeks. This takes up the majority of my summer, so I
have to organize my other activities such as; diabetes camp and
tennis practice, around my volunteer work.
I
have spent most of my volunteer hours being a role model and leader
for kids. This will help me be a better leader in the future. As I
look toward the future, I see myself continuing and increasing my
volunteer work. When I volunteer my time I look at the long
term impact of my actions. Through my service I have fostered and
fueled a spirit of service. I have shown kids the scouting path and
how they can utilize scouting skills to give back to the community.
Thus, through teaching kids new skills and being a great role model,
I have inspired a new generation of leaders, who will then grow up
and lead the next generation.