Name: Ashlynn Helm
From: Lynnwood, WA
Grade: 11th
School: Lynnwood High School
Votes: 0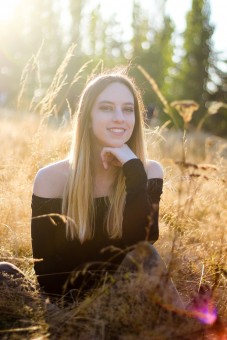 Ashlynn
Helm

I chose to volunteer at a cat
shelter, and I volunteer between two and five hours a week, really
however much help they need that day. I have been volunteering with
Seattle Area Feline Rescue (SAFE) for about 7 months now and plan to
continue with them. I knew I wanted to volunteer with animals since
it's something I've been passionate about since I was young, but SAFE
stood out to me because I didn't have to be 18 to help them out like
PAWS or other organizations. While volunteering I set up litter boxes
and food for other volunteers and myself to use for the cats and
cleaning their cages. On top of that, I do clean the cages, do
laundry and dishes, sweep, mop, sanitize the work space, etc as well
as odd jobs like breaking down travel crates or cleaning syringes.
Since I'm in high school, have a job and babysit, the hardest thing
is time management, but I was able to make set schedules in almost
every part of my life which has helped tremendously. The thing that
really lets me know what I'm doing is working and beneficial is
seeing the cats get adopted! Especially the scared/feral cats, the
older ones and the ones with health issues, since they're less likely
to be chosen compared to a kitten. I have learned a ton of things,
whether it be cleaning/sanitizing techniques or behavioral or health
issues many rescue cats face (ringworm/upper respiratory infection).
I want to get a business
degree and then become a vet tech in order to open my own rescue or
take over someone else's, so this volunteer work has given me so much
"training" experience. Since my time being a part of SAFE
I've definitely changed some of my morals and what I think is
right/wrong or humane/inhumane, and those changes were for the
better, giving animals that chance of a better life. To me, forward
looking is kind of about progression and advancement, and in this
case it's for animals' rights. That being said, my work (and my
beliefs) are helping make that advancement. In a few decades, I'll
still be very proud of myself for the volunteering I did in high
school. I know I made a difference to so many cats and their new
families, even indirectly. By feeding them and taking care of them is
the easiest, but I also helped by doing the dishes and sweeping and
smaller tasks that help keep the rescue open and running.