Name: Alexis Gomez-Vargas
From: Downey, California
Grade: high school junior
School: Downey High school
Votes: 0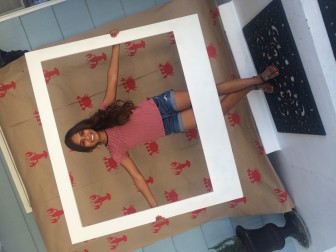 My
brother has autism. For a long time, I failed to understand what this
entailed and how to be a good sister and control my emotions. Very
few people experience daily how having a sibling with Autism affects
a family. Christian, my brother, can be unintelligible,
hypersensitive, and severely socially anxious. This meant my family
had to be much more attentive to my brother than they've
had to be with me. When I was young – and before I understood all
that was happening – I felt a lot of anger, resentment, and
frustration with my brother because I felt that I was being
forgotten. I didn't know how to properly
deal with his deficits, which in turn, made me feel that I was
failing him as his big sister. I felt helpless: I couldn't help him
in the way that my parents were able to. They had no idea that I felt
so lost because it was new to them as well. I didn't
know what was expected of me or what my responsibilities toward him
were.
It
wasn't until middle school that I
realized I could volunteer to coach his soccer team and help him
become more comfortable with his new teammates. Having me there –
someone he knew – encouraged him and gave him the confidence to open
up to others. By working side by side with him and his willingness to
persevere, he was able to overcome some of his struggles. With every
practice and game, he began to make friends and his soccer skills
also to improved. This was important because his self-esteem improved
as well. Finally, I discovered a way to help my brother; little did I
know he was helping me too.
Eventually,
I also began volunteering to referee the Very Important Players
(V.I.P) matches – soccer games that were created to allow kids with
special needs have a fair game. I discovered that I genuinely enjoyed
working with special needs youth. Inspired by this realization, I
eagerly took advantage of an opportunity that arose to shadow my
brother's speech-language pathologist,
Ms. Segal; a crucial decision that exposed me to the field of
Occupational Therapy (OT). Eventually I was given the opportunity to
shadow an accredited OT in both clinical and academic settings.
Immediately after that first session, it was apparent that this is
what I want to do for a living.
Being
an OT means so much more than just having a job, it's
about being able to help kids just like my brother. Occupational
therapy was similar to volunteering: it was selfless and creative.
All the professionals seemed to genuinely want to help each kid, no
matter their differences. It was everything I had come to realize
that fulfilled me: youth involvement, physical activity, and
meaningful work. I recognize my brother may not be the typical kid,
but through this process I discovered that by using different
strategies, he can learn the same things as others. This is where an
OT can be essential to his success – they
can help him uncover who he authentically is.
Thinking
back, it was my failure to understand how to help Christian that
guided me to discover how impactful volunteer work can be. In the
beginning, I felt as if I couldn't do anything that would help my
brother. I failed him because I couldn't just take him off the
spectrum, no matter how many times I wished. Just like he says today,
"I made lemonade out of lemons,"
because I overcame this sense of failure by
finding an outlet that contributed to his success, gave me a better
understanding of my brother's needs, and
helped me discover my passions.