Name: Vrunda Agnihotri
From: dallas, TX
Grade: 11
School: Richland Collegiate High School
Votes: 0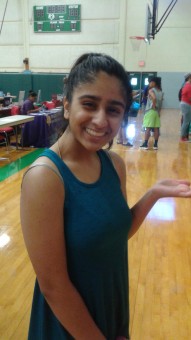 Since
January of 2016, I have spent time every week volunteering at
International Leadership of Texas, a school that specializes in
teaching social intelligence, grit, and integrity. This summer, I
helped in classrooms consisting of four and five year olds. At recess
one day, as I sat baking under the sun, two distressed girls came up
to me. I asked the younger one, the four-year-old, what had happened.
Before she could speak, the older one answered for her, "Sophia
doesn't how this game works. She's always messing up. And. And
she. And she doesn't even know how to speak English. You know what
else? She doesn't even have any friends." Surprised at how
intense recess had become since my days, I asked her, "Well, what
could we do about that?" She shrugged her shoulders. I said "Why
don't you guys just play a different game, and that's okay that
she doesn't have any friends. You could be her friend, right?"
Sophia's face lit up immediately. The older one nodded with a
smile, and I send them off holding hands. I found that there was a
lack of emotional intelligence in this situation.
Through
my research and through my own experiences as a dancer, I found that
dance develops emotional intelligence. I proposed my idea of
implementing a dance program to the principal of IL Texas to develop
the emotional intelligence in our kids. I edited and choreographed a
dance routine that I would teach the kids within two days before
their final performance. I let them teach each other the choreography
so they could build their teamwork and communication skills. As we
dance we mirrored each other and begin to understand each other's
feelings. The kids also had to take turns when dancing, which was
extremely difficult for them, but they did it and they mastered
impulse control. We successfully made it to the end of the song and
the kids practiced delayed gratification. I effectively developed the
emotional intelligence in our youth and the implications this will
have on society are huge. When people are more emotionally
intelligent, they tend to volunteer more because they feel
responsible for their community.
My
goal in life is to effectively volunteer my time to the youth, and
inspire others to do the same. Some peers are becoming entrepreneurs
and others are asking me how I could survive if I didn't have a
standard full time job. I knew that I loved to dance. While peers and
family members often teased me about how I could possibly make a
successful career out of my love of dance, I continuously looked for
opportunities to combine my passion with my career. Once again, the
answer was within me. My passion for dance will allow me to provide
service to my community. I created a dance program that would
increase emotional intelligence in children and provide a fun way to
volunteer and to teach people to volunteer.