Name: Lauren Nicou
From: Commack, New York
Grade: 11
School: Commack High School
Votes: 0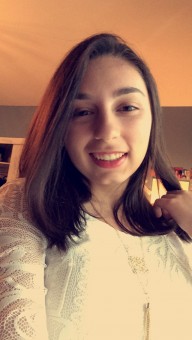 Lauren Nicou
Volunteering to Help Others
Community service and volunteer work is something
that I have done throughout my past four years at Commack High
School. Not only are you giving back to the community but you as a
person are giving back to yourself by learning the valuable life
lessons the community has to offer. Over the past four years at
Commack High School I have volunteered at the Bristal Assisted Living
and I have also spent three summers volunteering at LIJ Hospital in
New Hyde Park. Volunteering at these two places helped me discover
what some of my passions are and also helped me discover my future
career path as well.
A community service of mine that is very
important to me and that I am very proud of was volunteering at the
Bristal Assisted Living for my Girl Scout Gold Award. My Girl Scout
Gold Award was over a year long process. The problem in my community
that I chose to address was Alzheimer's disease. For my project every
weekend for two hours I would go and play the piano at a nursing home
and play music from yesteryear to help trigger residents memories. I
volunteered at the nursing home for a total of 93 hours. The project
also had to be long lasting so it would be there for future residents
of the nursing home. I made it long lasting by recording myself
playing all the songs for the residents and making it into a CD so
they could play it for years to come. It was very helpful and they
would laugh and sing along and remember the music from the past.
Alzheimer's disease is a problem in my community that hits close to
home because my grandfather has suffered from Alzheimer's for the
past twelve years and it's very hard to see someone you love so
much slowly deteriorate in front of you.
Although every weekend I enjoyed seeing the
people I played my music for after a while my project began to become
challenging. Every weekend I would visit I would see residents get
worse and worse. Even though I was well aware and knew that
Alzheimer's disease is a progressive disease it was still challenging
to see people I've grown to love get worse. However I was able to
persevere when I saw my own grandfather who has Alzheimer's disease
smile whenever I played for him and I knew that despite the
progressive disease, each person I played for was appreciative of my
music and despite the disease that appreciation never disappeared.
Not only did the music that I played at the
nursing home benefit the residents, but the many hours that I spent
with them taught me a lot of great things that I will carry on with
me through my future career as a nurse and as a person as well. I
learned the valuable skill of patience. For many people including me
it's hard to sit still and wait, but for people with Alzheimer's
disease it's even harder for them to be patient. I learned ways to
be able to sit and help with the residents, sometimes just listening
and holding their hand was calming and comforting. In addition, my
skills as a musician increased throughout my experience of gaining my
Gold Award. When I had first started I was very shy, nervous, and not
so comfortable with playing in front of so many people. By the end
of my experience at the nursing home I was able to play at paces
where all the residents could sing along to the songs. I became a
better performer and because of the nursing home I no longer get
stage fright when playing the piano in front of others.

Another Community service of mine that is
important to me was volunteering at LIJ Hospital in New Hyde Park. I
spent three of my summers volunteering at this hospital. In total I
volunteered a total of 294 hours in three summers. Two of my years I
volunteered in their Child Life department where I would get games
for the kids, make rounds to make sure the sick kids all had what
they needed, and finally I would play games and interact with the
kids there. This helped me recognize that I really enjoyed working
with kids and working towards making each child feel comfortable in
the hospital so they weren't scared. The other year I volunteered
at the mother and baby unit where I would organize stock, scan
papers, and make morning and afternoon rounds.
The summer going into my freshman year of high
school, I knew I loved the buzz of the hospital and that I definitely
wanted a career in the healthcare field. It wasn't until my
sophomore year of high school that I knew I wanted to be a nurse.
Whenever I saw the nurses working in the Pediatric Oncology floor I
was just inspired to be a nurse. Just watching the nurses doing their
job was inspiring. They were confident, sure of themselves and the
kids receiving treatment there looked up to them. From that moment on
I knew I wanted to be a nurse. I want to be able to help people and
help them get healthy during their roughest moments in life. It can
be an unpleasant situation and it will be my job to make it as
positive as possible. I look up to the nurses I met during that
summer. I hope one day to be as strong, kind, and poised as they were
when they made their afternoon rounds.
Volunteering at the hospital and constantly
motivating sick kids to get up and move around every day has made me
have such a strong desire to pursue my dreams and become a nurse.
Watching kids slowly get better and finally get discharged from the
hospital made me feel complete and proud that I had a small role in
their recovery. I can only imagine what it must be like to be a nurse
and have such a larger role in a child's recovery. Volunteering at
the hospital not only helped me discover that I want to be a nurse or
that I really like working with kids, but it also taught me the
importance of diversity and how important teamwork is in a hospital.
Therefore, I am very grateful for the two
community services I got to take part in. If I didn't volunteer at
the Bristal Assisted Living or LIJ Hospital I would've never known
the many strengths I possess that will help me succeed in every job I
do. By volunteering at Bristal I learned you need the skill of
patience , how passionate I am about finding a cure for Alzheimer's
disease, and that playing the piano can bring happiness to the
residents. In addition, volunteering at the hospital has given me a
strong understanding on how important diversity is, and has helped me
figure out my career path, and helped me realize I love working with
kids. To this day I am very fortunate I have gotten these
opportunities to volunteer in my community.