Name: Anthony Gregory Cardellini
From: Phoenix, AZ
Grade: High School Senior
School: Brophy College Preparatory
Votes: 0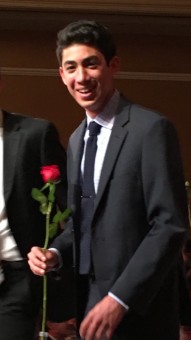 I have volunteered in many places over the past few years, from helping in
St. Vincent de Paul's family dining room twice a month to tutoring
underprivileged children on Tuesdays and Thursdays. But my most
meaningful volunteer experiences came during the week I spent in
Haiti and the two weeks I spent in El Salvador.
In Haiti, my peers and I painted orphanage classrooms, built community soccer
goals, and fed 200 children the only food they'd get that week. In
El Salvador, we stayed in the homes of rural campesinos and
talked to them about their lives. We met with Salvadoran
congresspeople, university professors, and local organizations
working to stop gang violence. The most meaningful parts of both
trips had to do with the people I was meeting. In Haiti, older kids
would welcome us into pickup soccer games while younger ones would
just walk up to us with their arms in the air, ready to be held. In
El Salvador, an 89-year-old woman named Maria told me she still
enjoyed life, even though global warming made farming difficult and
she had recently broken both her ankles.
Because of these two trips, I hope to participate in more service abroad in the next
four years of my life, and hopefully even beyond. I certainly believe
that I have an obligation to help the poor and suffering due to my
blind luck in being born into a middle-class family in the United
States. I think serving in foreign countries is particularly
important and insightful, because it allows me to experience a
different culture that is in many ways superior to my own. The
community, faith, and joy I encountered in both El Salvador and Haiti
made me realize that although the United States is very different
from both, it is in no way better.
Volunteering certainly comes with challenges. My challenges are philosophical
rather than logistical. I struggle in deciding which form of
volunteering is more necessary and helpful: giving aid or working to
change political, economic, and social structures. Feeding people in
Haiti is giving aid: it gave children the nutrition they so
desperately needed to survive another week. Meeting with the
Salvadoran government is working to change structures: we encouraged
them to adopt measures that would help the struggling campesinos.
This latter form of service has better long-term effects, but it
takes years to see these and the work itself is much less fulfilling.

I think the service I've done has made a difference. In Haiti, the
kids play daily games on the soccer goals we built. In El Salvador,
the first two college students from La Hacienda and El Junquilo
graduated college thanks in part to the work our organization did.
However, this change is nowhere near enough. I hope to continue
service abroad to experience more cultures, help more people, and
change more lives.