Name: Sydney Lynn Breeding
From: Kingsport, Tennessee
Grade: 11
School: Dobyns-Bennett High School
Votes: 0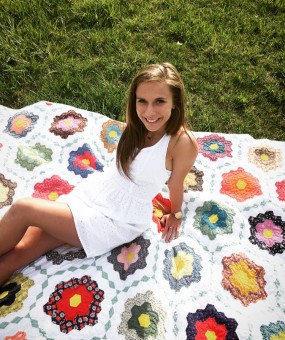 Sydney
Breeding
Volunteering:
Life Changing
For
the past two years of high school, I have volunteered through a
program labeled YES Club. YES Club is a program that allows high
school students mentor and tutor elementary school students who come
from a bad home life. I choose to join this program because I plan on
pursuing a degree in childhood education once I go to college. Before
going to the elementay school for the first time I was fairly
excited; however, I had no idea how much this program would change me
and my outlook on life. For the past two years, I have been going to
John Kennedy Elementary School for two to two and a half hours per
week. Since I leave my high school at lunch time for YES Club, I was
only able to leave twice a week. As a volunteer, I was assigned a
specific child to help. Last year I was assigned a fourth grade boy
who was extremely shy and picked on for his size. I had to consult
him about how being the bigger person may be hard at times, but it is
always the right thing to do. This year I currently requested to have
two kids. They are both third grade girls who have very difficult
home lives. Every week at Kennedy, I will eat lunch with my two
girls, talk to them about their day or what is going on in their
lives, and help them with school work. Although YES Club is the
highlight of my week, I have had some challenges thrown my way. The
biggest challenge I have had to face though would be hearing the
issues kids face at such a young age and struggling to provide them
with the right advice. On one occasion one of my third grade girls
confessed to me that she had considered suicide. My other little girl
that I have at the time has recently had the water in her house cut
off. I honestly find it a blessing to be able to connect with
younger kids and be a friend to them when they have no one else. The
way their faces light up when I walk in their classroom is rewarding
in itself. The situations that my kids have told me have had me
appreciate my family, friends, and home life more than I ever have.
It is unbelievable some of the things third and fourth graders know
and have to cope with at such a young age. Volunteering at YES Club
did not feel like volunteering because I received as much out of it
as the kids did. I am beyond thankful that I have had this
opportunity to volunteer because it has altered my life in an
extremely positive way.