Name: Colton Marquardt
From: Bismarck, ND
Grade: 11
School: Legacy High School
Votes: 2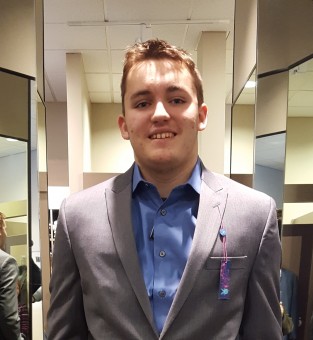 Have
you ever watched those old movies, black and white, where they're
sledge-hammering, doesn't matter the weather? That has been my
volunteer work for the Y's Men for the last 5 summers. We put up
tents, take them down, or secure them in rain, 60 mph winds, and
extreme heat. No, it is not usually bad weather but those are the
days that I remember the most. I do this so the children in Bismarck
and Mandan can enjoy the YMCA no matter their financial status. I put
in around 70 hours a year helping out.
I also help coach my
brother's soccer team. This is a year round obligation with a 2/3
week break after each season and I love it. The boys enjoy having
someone young that plays soccer coach them and I get an extra couple
hours a week practice. The joy that these boys show after playing a
game and getting positive reinforcement will keep me volunteering
youth sports into my adult years.
Lastly, I volunteer with my
family. I few times a year we pick a cause in the community and spend
a day working together. This varies each year from earth day, play it
forward, community clean-up, or working at the local shelters or food
bank. I know we are helping but these people can really humble you.
If you really listen to their stories, witness their gratitude, and
see the pure joy this experience can be life changing.
Volunteering
is something I've been doing from a young age. It has been instilled
in me that it is just something you do for you community. Some days
are really long, the weather is not always perfect, and people can
be disrespectful but it's always worth in the end. If you really
think about it these skills will help with whatever you chose to do
in life. I'll end with my mom's favorite quote, "The purpose of
life is not to be happy. It is to be useful, to be honorable, to be
compassionate, to have it make some difference that you have lived
and lived well. No one has ever become poor by giving."