Name: Tori Clark
From: Fayette , IA
Grade: College Freshmen
School: Upper Iowa University
Votes: 0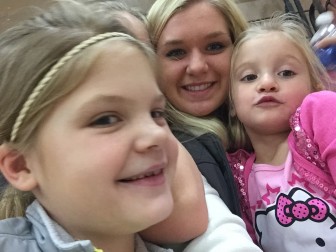 Volunteering
is Virtue
Volunteerism
is defined as the use of volunteer labor, especially in community
services. I attended two high schools where one required community
service hours to graduate, and one didn't. I completed 36 hours of
volunteering at youth sports camps, helping teachers prepare their
classrooms for the upcoming school year, and volunteering at my
church's food bank in two years. After moving to different schools,
just because the community service was not required, that didn't
stop me from helping in any way I could. This time, I was still
volunteering with sports camps, became a coach for 11 and 12-year-old
girls' softball, and volunteered at nursing homes.
About
five to eight hours a week are put towards volunteering. This varies
from coaching practices or games for junior miss softball team, or
volunteering at the nursing home either reading poems, playing music,
painting nails, or just being there to talk to the citizens.
Volunteering is the key to satisfaction. Teaching young girls how to
not only play, but to love the sport of softball just as much as I do
gives me so much satisfaction. Just seeing them on the field making
plays, getting a good hit, and just having fun is such a rewarding
feeling as a coach. Also, being around the elderly, them telling me
stories from their past or seeing them smile made every minute of the
volunteering hours worth it.
The
most challenging thing about volunteering is finding time to do it..
It was very difficult to juggle school, sports, and work, but summer
definitely helped me and will continue to help me volunteer this year
as I continue to coach the young group of girls, volunteer my time at
the nursing home when I am not working.
When
I'm helping out coaching or at the nursing home this past year, I
learned so much from every experience, especially how rewarding it
is. Just having a conversation with the guest at the nursing home
will make their day. Seeing them smile made me smile myself. Being a
coach and encouraging my players to do the best is also a very good
feeling. Nothing is more rewarding than knowing you helped someone
feel better about themselves.
"Forward
looking" makes me reference to my future. I believe volunteerism
has helped me look forward to my future in the medical field.
Volunteering at the nursing home allowed me to become motivated to
receive my CNA license, which is just the start to becoming a doctor.
Coaching adolescents as given me a huge experience working with
children as my career goal is to become a Pediatrician. I believe any
volunteerism makes a difference. Looking back in ten, twenty, thirty
years, it may not have affected a large community, but it definitely
has affected certain individuals; and that means you have made a
difference for that one person. I would recommend volunteering to
everyone not only to help out others feel good about themselves, but
for how good volunteering makes you feel.