Name: Nancy Anastasia Thomas
From: Tallahassee , FL
Grade: 9
School: Leon High School
Votes: 0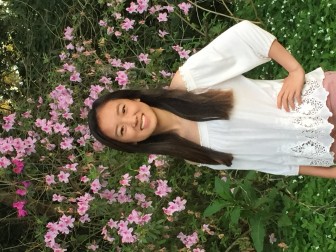 Over
the summer of 2016 I volunteered with the Rotary Youth Camp. Rotary
is a worldwide club that supports goodwill through volunteer work.
Our Rotary clubs in the Tallahassee area sponsor the Rotary Youth
Camp. Rotary Youth Camp is a completely free camp for children with
disabilities who wouldn't usually get to experience summer camp. I
served as a volunteer at the Camp for two weeks, working about 10
hours a day for a total of more than 100 volunteer hours. I choose to
volunteer with the Rotary Youth Camp because it seemed like an
opportunity to have fun while serving a good cause, and coincided
with my free time during the summer.
During
my time at Rotary Youth Camp I experienced and learned so much as a
"counselor in training." Throughout the first week, I helped set
up the camp site. In addition, I worked alongside other counselors,
some of whom had disabilities of their own, and it was inspiring to
work with them. We purchased needed supplies, decorated the mess
hall, and prepared the cabins for the campers. We had Rotarians teach
us team building and leadership skills, and special education
teachers taught us how to physically care for disabled people, such
as helping them transfer in and out of a wheelchair. We also learned
about the different disabilities and mental disorders some of the
children might have, what to expect, and how to help them.
The
second week the campers arrived and I helped some of them get dressed
and comfort them when they felt sad or were having problems. I also
helped them participate in fun activities, such as crafts and music.
This helped the campers have a good camp experience. And I made
friends in the process!
While
volunteering, I got to see others experience and enjoy things, such
as scuba diving for the first time, which brought me joy. It was
important to have many hands help with twenty campers in several
cabins spread out over several acres. I felt helpful and happy
knowing that if this camp didn't have volunteers and other staff
members, the children there would not have attended a summer camp.
A
big challenge as a volunteer at the camp was helping meet the needs
of the mentally disabled children. However, it was very satisfying to
see all of the kids have fun and have a great summer camp experience.

I'm
not sure what my career goals are yet, and what I want to do in the
future, but looking forward I am more comfortable and confident
working with people with physical and mental disabilities. I am sure
to encounter disabled people in my life, and my experience at Rotary
Youth Camp helped me become more empathetic to their needs. The
change I seek to foster in the world is aligned with Rotary's
mission: to foster goodwill and friendship. The camp was a valuable
experience in which memories and friendships were made for everyone
that will surely last.