Name: Abbie Price
From: Macon, GA
Grade: College Freshman
School: Wesleyan College
Votes: 0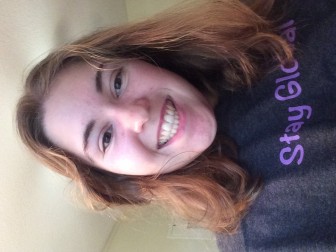 I volunteer in a lot
of areas. I put most of my time into working with children who
experience poverty near my college. I choose to work in this area
because children who experience poverty do not have the same
opportunities children who do not experience poverty have. Through
my work I aim to help narrow the gap between those students who are
not as fortunate as others. I also volunteer with other
organizations on campus and with students in entry-level biology
labs. Last semester, I volunteered for 72.5 hours in my various
organizations, and this semester I have accumulated 85 hours to date,
with my overall goal being 100 hours. I usually average about three
volunteer hours a week, with my total goal each month being at least
20 hours, if not more. When I volunteer, I am tasked with making
sure the kids in my lab observe proper safety techniques and have all
their questions answered. When I am working with the children near
my college, I often engage them in activities and make sure they
learn important educational topics as well as make sure they have
attention while they are here. Most of the students who come to this
program do not get much attention from their parents and just want
someone to play with them or listen to them tell a story. When I am
with them, I let them talk to me about whatever they want while also
make sure they are following the outline we have for them that day.
My biggest challenge in volunteering has been determining whether I
am helping the individual or if my volunteer work is just helping
myself. I recently attended a trip with a select group of students
that was focused on whether most of the volunteer work we do is
helping the people it is aimed to help, or whether we just help to
make ourselves feel better. During this trip, we discussed how most
volunteer work is not focused on the need of the people being helped,
but rather on what the people who are helping think the need is. If
the solutions to the problems are not coming from the people who need
help, the real problem is not known and there will be no solution in
the near future. I have received the most satisfaction when I see
how happy the children are after they leave. When we were hosting
our annual Christmas party for the children, many of them came up and
said it was the best Christmas they had ever had. All the hard work
of planning and organizing this event was all worth it when the
children said that. On a weekly basis, the children often say coming
to our events are the best part of their week. Through my volunteer
work, I have learned several things. Volunteering can hard to do,
especially when the cause is near to your heart. Not everyone is
going to appreciate the work you do, and not all the work you do is
going to work out. Additionally, what we think is the solution may
not actually be the solution. We need to include the people we are
trying to help in the solution. Instead of serving food, we need to
sit and get to know the people we are serving. We need to think
about what will benefit them instead of what would benefit us.
To me, "forward
looking" means my volunteer efforts have a long-term effect.
Instead of doing something that will only last for a meal or will
make me feel good for a few minutes, "forward looking" is making
sure the problem is addressed in a way that will be sustainable in
the future and that bring people out of poverty or out of
homelessness instead of keeping them in there or only providing
temporary help. Through my efforts to make sure my work provides
long-term sustainability, I am participating in "forward looking"
volunteerism. Through my work I hope to teach people how important
it is to volunteer. Many people do not have the things we take for
granted: three meals a day, knowing where our next meal is coming
from, being able to sleep in a bed at night. Through our efforts to
help others we can make sure no one must go through these issues ever
again, if we help the right way. I also aim to increase awareness
about how our efforts to help could be potentially harmful and ways
to make sure our work is helping. I do believe the work I am doing
now is making a difference. It may not be a big difference, but if I
help one person, that's all that matters. The children I help,
even though it is only one day a week, are enjoying that one day
they're with us. That one day, they're having opportunities they
would never have before. They're going to remember these days, and
maybe it will make them a better person. My work is definitely
making a difference in the lives of some.