Name: Annalise Walp
From: Mars, PA
Grade: high school junior
School: Mars Area High School
Votes: 0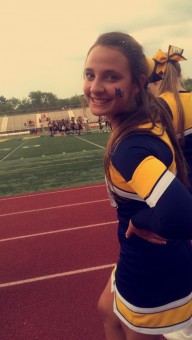 I have completed most of my volunteer work with the youth. I chose it
because it is better to start learning things and making habits as a
child. I have helped out in cheerleading clinics, lacrosse practices,
and at Healthy Kids Day at the YMCA. Meeting all the kids and being
able to teach them how to do things I love is very rewarding. The
girls I teach cheers to at our clinic always come to youth night and
cheer with varsity for a game. It is amazing seeing how far they have
come in just a few months. It is a good feeling having so many little
girls look up to you. Per week, my time volunteering totals 2-3
hours. I try to keep aside time while keeping up with schoolwork,
cheerleading, and my job.

As a volunteer with children, I have to stay bubbly all the time.
Little girls will imitate me, so I have to always act more mature.
During cheer clinics, I have to make sure that during one week we
learn 2 cheers, a dance, and jumps. We have to do this while keeping
their attention and playing games. They have so much fun especially
when their parents come for the showcase. During lacrosse practices,
safety is a main issue, so I have to be careful what drills we do. I
need to properly teach the new players how to pass, catch, shoot, and
cradle. My biggest challenge volunteering is saying bye to the girls
every year. I get so attached to them and it pushes me forward to
keep doing this work every year.
The most satisfaction I get volunteering is when parents come up to
me and tell me how well I have done, or that their kid really had
fun. Cheerleading and lacrosse is just for fun, so when the girls
actually learn something and have fun and it shows, it is very
satisfying. I have learned that it is important to start activities
and being healthy when you are young. It has a good impact on your
body and wellness once you are an adult. I have learned how much of
an influence a teenager can be on someone just a few years younger.
My career goals include receiving my bachelor degree in nursing. My
volunteer work has taught me how to interact with kids, so if I
choose to work in pediatrics, it will be easy talking to the kids and
interacting with them. As a pediatric nurse, I cannot teach the kids
but only help them. I can show them how to live a healthier lifestyle
if needed.
"Forward looking" means that one does activities that will
benefit them for the future. In my case, working a job and playing a
sport holds great responsibility that is good to use when one is
older. By having a job, I have a lot of things that I need to do
before my shift is over. Playing sports teaches time management,
especially when there is a game on a school night and I have a lot of
homework. You learn teamwork and how to work with others. All of the
things I have learned through high school can benefit me when I
become a nurse.
What I hope to accomplish in the world from volunteering is to teach
kids to be active and passionate about it. I fell in love with
cheerleading in second grade, and I have cheered up until my senior
year when I no longer could. I hope to influence younger girls to do
what they love and don't be afraid to try out for a sport. In years
down the road, I hope that the girls I have taught how to cheer and
play lacrosse have had a great career in these sports. During these
seasons I made so many new friends and had the best time with them. I
only hope to influence the youth as much as I can before I leave for
college.