Name: John Mikos
From: Chicago, Illinois
Grade: Junior in High School
School: Kennedy High School (Chicago Public Schools)
Votes: 0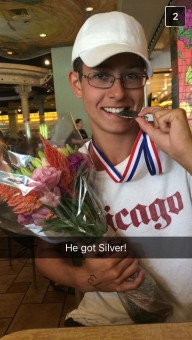 Wentworth Park
My
local Chicago Park District has felt like another home for me. Ever
since I was four years old, participated in the classes it offered.
From tumbling to swimming and t-ball to seasonal sports, I was always
present. These programs taught me social skills and how to play
sports.
I
remember when I was four, my parents signed me up for the soccer
classes. I was always afraid of going because I did not know how to
play the game or move around with the ball. So many of the kids were
better than me, but I kept playing and playing. I began kindergarten
and I received the schedule that I would carry on for the next 7
years. I would have to wake up, go to school, change, eat, go to the
park, attend two hours of programs, learn to swim, homework, and
finally sleep. All these hours of practicing with the park allowed me
to achieve fluency in any sport I played, especially soccer,
swimming, and water polo. I turned ten and began participating in
competitions for these sports all throughout the Chicago Park
District. I won a gold medal for swimming and qualified for the
soccer finals for the City of Chicago. I learned the importance of
time management and working hard towards a goal. I grew up with my
local parks and love the way they built me into the person I am
today.
I
feel I am a perfect example of what the parks can do for children.
With this in mind, I decided to volunteer at Wentworth Park, the
primary park that built me. I wanted to help the neighborhood
children achieve success and guidance like I did through the parks. I
started at the very start of the school year and got to witness the
children grow and progress in various sports like soccer, floor
hockey, basketball, and flag football. Seeing the kids coming into
class with so much enthusiasm moved me, and encouraged me to put my
best effort for the kids to have fun, and in return they latched onto
me. An example of this was when I showed up a few times a little
late, due to swim practice, when I came in they all jumped around me
and yelled, "Coach John! Where were you?" This was usually with
the younger group. The older group was constantly trying to act cool
and misbehave, but quickly came to accept and respect me.
Another
great experience I had volunteering at Wentworth park was helping a
foreign boy fit in in the United States. The name of this boy was
Thierno and he had recently moved with his family from Guinea.
Because he only spoke French, I did anything I could to help him. It
was amazing helping him out because I could see that he was enjoying
the programs and looked forward to coming to such a friendly
environment at the park. Thierno just entered my school as a
freshman, and whenever he sees me in the hallway he will not forget
to say hello and give me a handshake.
The
Chicago Park District is an amazing resource that promotes well being
and a unified community. No wonder they have received the National
Gold Medal Award for their parks. Overall I really appreciate my
experiences with Chicago Park District. The neighborhood children
seem to love to come to play, exercise, and socialize. The
experiences the Chicago Park District has provided me throughout the
majority of my life is priceless. So far I have volunteered over
three hundred service hours, they are a gift because I feel I have
made a positive influence in children's lives . The parks and its
people will always provide a second home for me.