Name: Camille Faith Ng
From: Sherman Oaks, California
Grade: 11th
School: Taft Charter High School
Votes: 0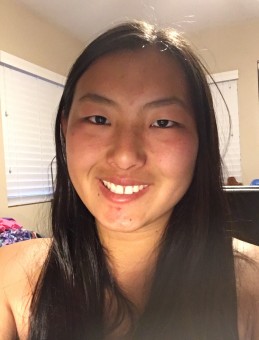 What
a Blanket Can Do
When I was seven months old, I was adopted from an orphanage in China. Ever since my family and I have gone back annually to help hospitalized children and orphans of various organizations throughout the country. Being an adopted orphan and having such a close heart connection to their underprivileged lives have developed in me a strong compassion and drive to help.
Hugs in a Blanket is a non-profit club I created at my school where students come together to make and donate handmade fleece blankets to children in hospitals and organizations. As the president and founder of my club, I have the responsibilities of buying fabric, preparing and making the blankets, setting up donations with organizations, organizing fundraisers, and making newsletters. Sometimes it's difficult trying to keep track of everything, but my family and friends help me get the job done. At school, my club makes 8 blankets
per week. At home, I put in time each day organizing and managing the blanket donations. In addition to preparing the blankets that need to be made for each week, I sometimes make a blanket myself! So far, I've gained enough support and help to make and donate more than 500 blankets to children from organizations and schools in disadvantaged areas.
The blankets we donate provide children warmth, love, and care. Every time we donate, I love hearing the heartwarming stories from the children. One little girl who had a difficult time falling asleep said that her blanket helped her feel safer in bed. Another older
teenage boy said that his blanket was one of the only things he had to keep himself warm during the night. No matter what the stories
are, they never fail to make smile and tear up a little. My club and I were even able to visit the children at an elementary school and
personally hand out blankets. Seeing the children's reactions is what made it all worth it. Some had smiles, bigger than I have ever
seen, and others were running around with the blanket wrapped around their faces. That experience was priceless and it's what motivates
me to keep doing what I do.

           My club has also been able to touch the heart of one of my friends that has started a Hugs in a Blanket club at her school. I am so glad that I have inspired others to make a change in their community so in turn, we can make a difference in more children's lives. As I
transition into college, I hope that with my growing resources and experience I can create an even bigger impact in my new community and integrate this into my major. I plan to study pre-med so one day I can work in hospitals and bring joy to my patients by providing them a soft, warm blanket.