Name: Ashley Somers
From: El Cajon, California
Grade: College junior
School: Grossmont College
Votes: 0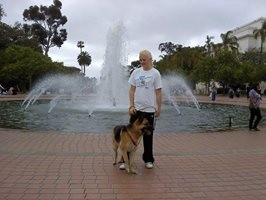 What Happened to Capitan Planet?
Can you imagine a place where there is liter everywhere? According to a study by, the World Economic Forum (WEF) and Ellen MacArthur Foundation, that could be the reality for ocean life. By the year 2050, it is projected that there will be more plastics than fish in the waters around us. Water is an essential to human and all life on this planet, and by human behavior alone, we are killing everything at an alarming rate.
I have volunteered countless hours at my house and around my communities picking up trash without recognition from clean up groups. Whether it is sorting my own rubbish to picking up stray bottles and other trash in the parking lots, bushes, and my front yard. Knowing that I am picking up these random bottles and other pieces of waste gives me piece of mind. My house has an irrigation ditch in the front which when it over rains heavily, it flows everything from upstream and goes into my yard. When possible I always have cleaned up before the next flood came rushing down. Without my action of cleaning up the trash that has traveled down, it would end up elsewhere and possibly harming the wild in the ditch further downstream.
A problem I have faced over the years is that many volunteer groups want money for having picked up waste, or that you can get fined for having cleaned without a permit. Both, I believe are absolutely ridiculous, and are part of the problem that is impacting this issue. People should not have to pay or be fined for helping all life. I hope that these problems would not have to be a part of the issue in the near future.
There have been bans put in place around the United States of America for plastic bags. Which are a great thing both for ocean and the Earth. Places that have the plastic bag ban like southern California, such as El Cajon, have shown a noticeable difference just by appearance alone. I myself have not seen a lot of bags flying freely on the freeway as if they were birds, or in the ocean floating like jellyfish. These lifestyle changes like these plastic bag bans would help improve our Earth's health and the quality of our ocean life. Imagine no more sea turtles being confused over whether the item in the ocean is a real jellyfish or a plastic bag. We would have a ton more sea turtles and other fish!

            You could never stop learning even if it is from unrecognized volunteer work. To putting the effort into picking up rubbish around communities to having it cleaned up in your own house. Those are the little actions could have a great impact around you and all of us. I hope that in the years to come that we will be able to all change the way we live, so others can enjoy the experience we have had.