Name: Landon Reeves Johnson
From: Daphne, Alabama
Grade: 12th
School: Bayside Academy
Votes: 0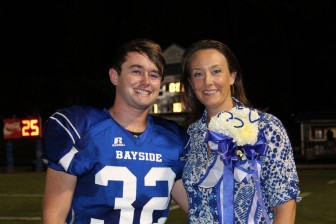 Landon Johnson
Scholarship Essay
What
am I Doing and Plan to do to Make a Difference in my Community
I always have
believed that the greatest sense of happiness comes from helping
others. Bayside Academy has taught me that no matter what age I am,
I'm still able to make a difference in my community. My junior year
I volunteered at Wings of Life, an organization housing homeless
people in Mobile, Alabama. Wings of Life is a huge blessing to people
in Mobile because it never ceases to try and help as many people as
possible. On Thanksgiving, I helped serve food and hand out jackets
for homeless people and people in need. This was the moment when I
realized I had a love for helping others and so I went back my senior
year to help serve again. The happiness from putting a smile on
others' faces really influenced me to go to find an opportunity to
try and help more and in a different way. I thought about another
group in Mobile that I could positively impact, and then in one of my
classes we were learning about PTSD and the effects on soldiers. I
immediately knew whose lives I wanted to make a difference in, and I
decided to blend my love of lacrosse into wanting to help others. So
I started working on the idea of using a lacrosse tournament to help
local veterans in August of 2016 with a group of teachers at Bayside.
I then talked to the Mobile Mavericks, a local lacrosse organization,
and they quickly took to the idea. We immediately started work on
having a tournament on February 4, 2017 at the Battleship Park along
Mobile Bay, which is the home of the U.S.S. Alabama. Through the
Mobile Mavericks I was then connected with a local veterans
organization called Veterans Recovery Resources, which is currently
trying to build a housing complex to serve veterans with PTSD. The
next step I took was to think of different ideas through which the
tournament could raise money for Veterans Recovery Resources. My
first idea was to create a t-shirt. So I worked with my computer
teacher to come up with an awesome patriotic logo of a soldier and
lacrosse player back to back with the American flag in the
background. I coordinated with my principal to have the t-shirts
made, and we found a sponsor (Southern Cancer Center) to donate
enough money to make 150 t-shirts. We then sold out of the t-shirts
and after the event had another batch created because the demand was
still so high. The t-shirt sales were probably the largest
contribution to the amount of money we raised.
My
second idea was to have a $500 dollar cash prize raffle, which was
another very effective way to help raise money for the local
veterans. Our next objective was to try and make as many people aware
of the event as possible, so we started a social media campaign to
let people know of Veterans Recovery Resources and the tournament
which we named the Battleship Shootout. We used Facebook, Twitter,
and Instagram to help spread the word around, and we also reached out
to other local organizations' social media platforms to help us. In
addition, my principal and I contacted Local 15 and WKRG to cover the
tournament, and they agreed. Although I was frightened at the idea of
being in front of the camera, I faced my fears and had a very
successful news interview, which also helped more people learn about
Veterans Recovery Resources. Following the tournament, more local
businesses contacted Veterans Recovery Resources wanting to make
donations. It was truly incredible, and the event was a huge success.
There were more than 1,000 people who came to the tournament, and we
raised over $3,000 for Veterans Recovery Resources. After working
hard pulling together an event like this, I wouldn't hesitate to do
more events to benefit my community. I want to expand to partnering
with more tournaments to help raise money for veterans.