Name: Gabriella A Washington
From: Raytown, MO
Grade: 11
School: Raytown South High School
Votes: 0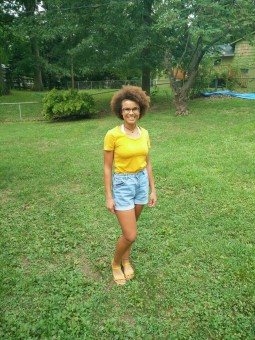 It
has been said that it takes a village to raise a child. I have seen
this demonstrated not only in my life, but in the lives of my friends
and family. In order to raise a child to be a well rounded
individual, they must be exposed to many different views and outlooks
on life. I am fortunate enough to have experienced this firsthand
when I was adopted into an outstanding family. I have been raised by
members of my biological family, as well as the family that ignored
blood and welcomed me with open arms.
My
community has also influenced me to not only give back, but to
endlessly offer my love, time, and hard work with joy in my heart. I
volunteer at the Raytown Emergency Assistance Program, also known as
REAP. My brother was connected with the organization this past summer
through one of his clubs and recommended me to their director. I was
embraced into yet another family and given a unique opportunity to
volunteer, immediately.
As
I volunteered on a more consistent basis, I began to notice certain
traits of the other volunteers. The majority of the people at REAP
are older, retired women. I was so amazed by the commitment these
women spent bettering their community. They put their lives into
their work, and their unwavering dedication left me in awe. Not only
were they hard workers, but they were some of the sweetest women I
had ever had the pleasure of working with. They did not have to take
the time to learn about my life or ask me questions about my future,
and yet, they did it anyway.
I
have taken my experiences at REAP and become inspired to give back to
my school. I am very active in my school's Student Council because
I love the events the club participates in. Along with planning
dances and organizing assemblies, they do a lot of work with the
young children that stay at the Herndon Daycare Center. I always feel
so fulfilled when I can be a part of making those kids smile and
maybe a piece of what makes their day great. I am able to give
without question because of my time volunteering for my community.The
tender hearts of the elderly have ingrained a desire to help those in
need around me and that is a lesson I will be eternally grateful for.