Name: Austin Noll
From: Van Nuys, CA
Grade: 11
School: UCLA
Votes: 0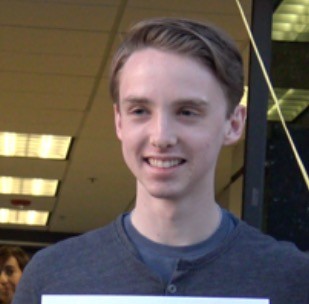 Everyone
gets dealt different cards in life. I want to make sure that people I
come across know that they matter, that they are visible and
important. When I was young, my family went through an extremely
challenging few years where things felt
very hopeless. Since then, it has been my passion to make every
effort to give others hope when they seem to be running low. One of
the most important things to me has been to find ways to serve those
who are going through challenging life seasons. For
the past seven years (since fifth grade), I have been heavily
involved in a non-profit organization called Family Rescue Center
(FRC), which provides over 1,200 homeless and low-income children and
families with food, clothing, and medical care. I have learned so
much while serving over 600 hours at FRC. I am grateful and humbled
to have been given the title of their first ever "Youth
Ambassador". This position gives me the opportunity to speak at
many schools and churches across Los Angeles about the needs of those
who are experiencing homelessness in our city, and to get more people
involved in volunteering/donating. Being involved with the clients at
FRC has taught me that, first, just because someone is homeless does
NOT mean they aren't trying. Most of the people who require the
center's support are earnestly trying to get back on their feet.
Many have suffered unthinkable tragedies and losses. Also, after
years of serving at FRC, I have become increasingly aware of just how
close in proximity the families that we serve are to me; this need is
not in some far off country. These are my neighbors. These kids
attend the same schools as my friends and me. There have been
instances where I have spoken to clients at FRC who live just a few
blocks from me. In addition, two years ago, I was elected to the Van
Nuys Neighborhood Council, being given the title of Youth Councilman.
Six months ago, I was appointed the Council's "Homeless Liaison"
for the City of Los Angeles, attending bi-monthly meetings with
representatives from 96 cities around LA to discuss and brainstorm
ways to help the homeless population in LA and its surrounding
districts. Being able to be a part of the council has given me so
many tools, as well as allowed me to develop a much deeper
perspective of how one can implement change in their community and
the lives of those around them. All in all, being able to serve is
something that has always held a special place in my heart. Nobody
deserves to be treated less-than others simply because they are at a
tougher point in their life. Being able to help people through both
the Family Rescue Center and the Van Nuys Neighborhood Council has
been a blessing for me, and has allowed me to offer people hope!