Name: Lexis Ortiz
From: Staten Island, NY
Grade: Junior
School: Tottenville High School
Votes: 22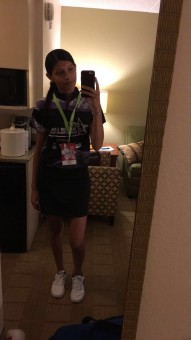 I
spend my volunteer time in my neighborhood's local bowling alley,
teaching the youth. Every Wednesday's from 3:30 to 5:00p.m, I spend
my time coaching and helping young bowlers. I've been in this
program since December 2016. As an experienced bowler, I teach them
strategies that I have learned and team sportsmanship. Not only have
I've given back to these young kids but taken on a responsibility.
I faced minor challenges and learned from my overall experience.
During
my hours of coaching I teach the "pee-wee's" which are
inexperienced bowlers, roughly around 6-7 years old. My role as a
coach is to teach them the sport and also encourage them. Some of the
things I teach are: how to properly throw the ball, how to give
curtesy to other bowlers before bowling and how to make a spare by
reading the lane. However, my main focus is to encourage them. Giving
my bowlers high fives helps them build confidence at a young age and
it makes them love the sport. As I mentioned earlier, these kids are
young. Some of them don't take the sport serious but I feel if I
encourage them, it will keep the young bowlers coming back. One of my
biggest challenges is their attention span. Their attention span last
about five seconds. Also it's hard to get them to sit down, take
their fingers out their mouth and stop putting their hands in the
ball return. However, I have learned patience through them not giving
me their full attention. It may have took weeks to get them to
finally listen, but it was worth it because now I have a connection
with the kids.
The
thing that gives me the most satisfaction as a volunteer is when the
kids make a spare or strike. The joy and excitement over these kids
faces, is priceless. I've had kids scream and dance after achieving
one of those things. It's a pleasure to see how an accomplishment
can bring such joy to someone. I am there helping them through this
process, so to see someone do what you helped them with is an honor.
To know that I brought happiness into their hearts and had them
accomplish something is the greatest feeling in the world.
I've
been bowling since the age of 7 and will be continuing my journey in
college because I have received an opportunity to play NCAA DI
Women's Bowling. So my volunteer work is in alignment with my
interest. I am sharing the knowledge I've learned throughout the
years and giving it back to the kids who are the age I was when I
started. Looking forward I see myself continuing to help young
bowlers and perhaps start my own league one day. Through this
volunteer work the changes I seek to foster in the world, is to show
kids that you can do whatever you set your heart to. Also take what
you learn from sports and apply it to everyday situations. If I were
to come back in ten years from now I do think my volunteer would make
a difference. I may have encouraged kids to pursue bowling and be
confident in whatever sport they decide.