Name: Jillian Rice
From: Highland Heights, Ohio
Grade: 11
School: Mayfield High School
Votes: 0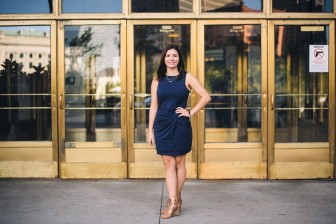 I was raised to believe that any chance we have to help others is as
important as anything else we do in life. This belief led me to work
with Youth Challenge, a local organization that brings together
children and teenagers with physical disabilities and partners them
with teen leaders. Youth Challenge relies on volunteers to organize
events that encourage fun environments, social skills, and physical
activity. While my reason for volunteering at Youth Challenge started
with my desire to help others, I eventually had an epiphany; they
were the ones helping me.
All of the Youth Challenge events left an everlasting impression on my
life. However, one of the most impactful days that I experienced with
the group involved an activity with physical exercise. My partner,
Taylor, had spent her whole life confined to a wheelchair.
The concept of exercise probably rarely crossed her mind or only reminded
her of another thing she could not do. My goal was to not let another activity be or feel impossible for
her. Instead, we worked together and found things she could do, like
pump dumbbells. It was not easy, but she did not give up and worked
at it over and over. As I watched her take on these challenges, she
did so without a word of complaint and with a great deal of
enthusiasm. It was then and there, I realized that if Taylor could
handle with grace the challenges in  front of her, what excuse
do I have not to conquer the fears and tasks that I face? Taylor gave
me an immeasurable gift.
After that meaningful day with Taylor, every time I am at an event with
Youth Challenge, I realize I am receiving that beautiful gift again.
I see these wonderful children and young adults never let their fears
or lack of physicals skills prevent them from overcoming the
obstacles they face; they are determined to conquer whatever lies
ahead of them.
I have recognized how many limitations I put on myself academically,
socially, and physically due to fear- fear that I would not be good
enough or fearful that I would be perceived as less than perfect. By
partnering with Youth Challenge, it has become very clear that my
self induced limitations were just that- self induced. I just needed
to get out of my own way. And I did; I began working on my confidence
and pushing myself to take more challenging AP classes.
Through my experiences with Youth Challenge, I have discovered that helping,
improving, and making an impact in the lives of others is meaningful
to me. This realization is why I am interested in studying psychology
and focusing my education in this direction. It is very important to
me to continue helping others through their challenges whether it is
directly, through research, or any other opportunities that will come
my way in the future. And in order to help others, I myself am
reaching out for financial help.