Name: Jesse William Ora Bartrum
From: Exton, PA
Grade: College Freshman
School: UTI-Exton
Votes: 0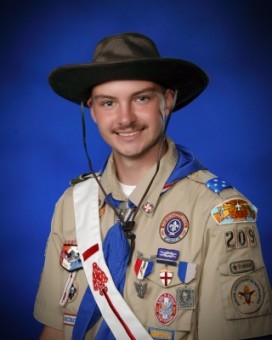 As a Native American, I was raised to believe your life is a gift from the Creator; your gift back to the Creator is what you do with your life. This, I imagine, is what led to my dedication of volunteering for youth. It also encompasses my view that "forward looking" starts with youth.
They are our future, which is why attention to their wellbeing is essential to our journey forward. Via my volunteer activities, I hope to instill in youth that they need to assist their fellow human beings as well as take great care of Mother Earth.
At my high school graduation, I was awarded the President's Education Awards Program, for having served 661 community service hours. Although my biggest challenge today is finding enough time, I still volunteer with Scouting and also the High School's Track and Field and Cross Country teams. I was a Varsity runner for the Cross Country team and continue to enjoy running today. After three years of working on and raising money for my $5500 Eagle Scout Service
Project, I achieved the rank of Eagle Scout. I am now Assistant Scoutmaster of my troop, a member of BoyScouting's
Venture Crew and a Brotherhood member of the Order of the Arrow, Boy Scouting's honor society. As an Assistant Scoutmaster,
I take pleasure in working with the youngerscouts and watching them be so amazed at some of the things they learn. They seem to enjoy having me with them on camping trips, I suppose since I am closer to them in age than the other leaders.
I am a member of the Nause Waiwash Band of Indians and serve as Youth Adivsor to Tribal Council. I attend events to help educate the public about who we are and give them our history. I work the annual Pow Wow every year and demonstrate arrow making. I have assisted with the tomahawk throw and have recently started knapping, which I hope to excel in enough to start demonstrating.
Our tribe has many items on display in The Captain John Smith Nanticoke River Discovery Center in Vienna MD, including arrows I made. I hope one day to have arrowheads I have knapped on display there.

        Volunteering is easy. You just have to be dependable and dedicated. I enjoy trying to get the younger children interested so they will become involved. Any time that I can help someone, it gives me pleasure. Amazing to learn how very appreciative most people are for you just spending time with them. It gives you a good feeling when you are able to take the time to help someone else succeed, progress or even get out of trouble. I hope to be able to succeed myself and become a better person.
My desire is to look back from the future and see the world as a better place; knowing that I attempted to help happy, healthy and wise youngsters grow into sincere adults who care about each other and our Mother Earth, giver and sustainer of life itself.