Name: Jonathan Melton Jr.
From: Pennsauken, New Jersey
Grade: sophomore
School: Baptist Regional School
Votes: 0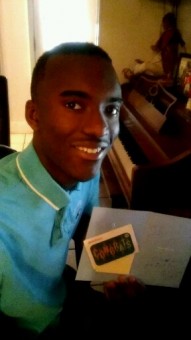 I have always loved
to read and be around books so I chose to volunteer at my local
public library in the summer. I started volunteering in the
summer of my 7th grade year. I was 12 years old and I'm currently
16 years old. I was responsible for assisting the children's
librarian with the summer activity programs and schedule, I assorted
books and returned them to the shelves, cleaned tables and
chairs, worked outside, tending to the library's garden, assist
customers and as head volunteer and keep the other volunteers on
task. I found the most satisfaction in participating in a
program called Reading Buddies. The purpose of Reading Buddies
is to pair an older student with a younger student to assist in
reading. I've assisted many students in reading. It
brings me joy to share my passion for reading with others. The
students I read to, always smile and I enjoy making them laugh with
my impersonations of the various characters in the books. I
also, enjoy seeing the expression on their face as they are
learning how to pronounce and the meanings of new words.
Reading
Buddies has affected my outlook on life as it has helped me see the
importance of giving of to others. As teenagers, we can be seen as
selfish and Reading Buddies helps me to be selfless and I enjoy that
feeling.
The
biggest challenge as a volunteer has been accepting the role as head
volunteer and having to provide effective leadership to the other
younger volunteers. There are times you want to have fun but I had to
remember that I was the example. I wanted to be an effective but fun
leader so I had to learn to balance the two.
Being
a volunteer has given me the opportunity to work in a leadership
capacity as well as learn how to multi task. Forward looking is using
the skills I developed as a volunteer and transferring those skills
in becoming a successful business owner. I want to have a productive,
meaningful, enjoyable and lucrative business. I believe a library is
all of those things…well, I'm not sure about lucrative? I want to
make a difference in my business as I have done as a volunteer. I
know the students I have read to will remember their reading
experience at the library in a positive way. I would like my business
to be remembered by patrons in the same positive way. There are
individuals who open businesses just so they can make money. They
don't always think about their employees or their customers. I
realize working with a group of people every day is like a family
working towards the same goal. I want to always care about my
employee's and customer's experience. I believe my volunteer
activities have made a difference because as the lead volunteer, I've
passed on a great work ethic in how they carry out their duties; in a
positive and effective way.