Name: Samantha Thompson
From: Hood River, Oregon
Grade: 11
School: Hood River Valley High School
Votes: 0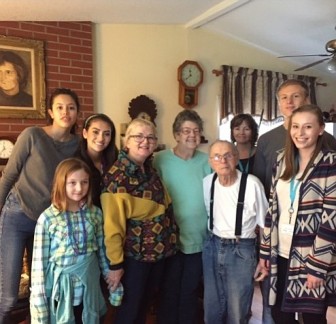 I
chose to volunteer for Heart of Hospice. I was introduced to Heart
of Hospice at our school's volunteer/club fair. At first I joined
the club because it would look good on my activities chart, but
everything changed the first outing I went on. I saw pure joy in
patients' faces as soon as we entered their door. I watched their
loneliness melt away every time we gave them the gift we had made.
Most of all I saw life return to their bodies. I continue to
volunteer for Heart of Hospice because I can make a difference in
someone's lives, and all it takes is a knock on their door.
There
is a meeting once a month for about a half an hour where we plan what
we are going to sing and make for our next outing. Then we pick a
day where we spend about an hour to two hours making around one
hundred of the gift we decided on (examples are bunnies for Easter
and glass hearts for Valentine's). There are two outings per month.
Each outing is two to four hours long.
I
am the president of the club at the high school, so I organize the
meetings and am present at each of the outings and the days we make
the gifts. I assist the volunteer coordinator at Heart of Hospice
(she is also our club advisor) with paperwork. Most of all, I help
keep things running smoothly when we go on our outings.
The
biggest challenge as a volunteer is when we visit memory ward
patients. It's hard to tell if they like you being their or they are
terrified out of their wits. It's a delicate balance when we visit
the memory ward patients.
What
gives me the most satisfaction volunteering for Heart of Hospice is
knowing that every time I play my cello or sing for patients I remind
them what it is like to live without the pain, to be full of life
again. I can change their lives just by knocking at their doors.
I
have learned that it doesn't matter how small the act may be, I can
make a difference just by talking to someone. I can bring people joy
just by being with them. A simple gift can make someone's day.
Volunteering,
singing, and playing for Heart of Hospice has made me realize that I
want to keep changing people's lives, but I also wanted to pursue my
other passion: music. So, I've decided to major in music therapy.
In
the sense of my work at Heart of Hospice, forward looking means that
the patients we see will live a day longer where they are happy.
Forward looking means that we've made an imprint on their lives, that
we have made a difference. Using that definition, yes, volunteering
for Heart of Hospice is forward looking.
I
seek to change the idea that patients who live in nursing homes need
to be isolated. They need companionship just as much as everyone
else. Friends and family need to realize that patients need their
love and company way more now than ever before. By visiting these
patients, I can show family and friends just how important it is to
make them laugh.
Yes,
I think my volunteer activities would have made a difference. A
smile is a precious thing. It's something that doesn't come often or
easy, especially as people grow older. By visiting Heart of Hospice
patients once or twice a month, I've made them smile, a mark that
will never disappear. It's a sign of happiness.