Name: Trace Bails
From: Bushland, TX
Grade: 12
School: Bushland High School
Votes: 16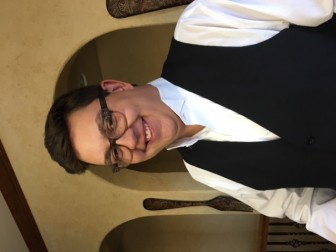 An
Ever-changing Heart for Others
By
Trace Bails

I
have volunteered in the sector of homelessness the most out of all of
my activities because in Amarillo, Texas, homelessness is a
continuing battle between the city and the people. Since August 28th
I have volunteered nearly 50 hours of my time. I have had
responsibilities ranging from cleaning, to cooking, to speaking at
city hall meetings, to controlling Instagram and Facebook platforms.
My
biggest challenge I face daily as a volunteer, is finding the balance
between school,
Extracurricular
activities, and my job. I have gained the most satisfaction from
doing something so small and witnessing lives being changed because
of it. I have learned many life skills that can only be obtained with
volunteer work such as speaking at a city hall meeting protesting the
for the rights of the homeless, remodeling a bathroom for a local
women's shelter, and more than anything, that everything I do through
volunteering can change someone's life.
A
lot of my volunteer work does not line up with my future plans as a
music educator, but I have spent many hours doing volunteer work with
local high schools and their music programs to further plan for my
success. Knowing I have the power to change someone's life by
something nearly insignificant to me is powerful. As soon as I finish
my volunteer work I have hopes that the people I've impacted will
have no more looking back to do. I know with what I've done there
will only be forward looking into a better future.
I
hope to inspire other students my age and teachers to take time out
of their busy lives to volunteer and change lives just as I have had
the opportunity to do so. I know for a fact that the volunteering
done in my teenage years will make a long lasting difference in the
lives of those it has and will continue to touch. Seeing others
volunteering gives you the urge to volunteer, so as I spend my time
with younger kids while they witness me volunteer, I truly believe it
will impact them to change lives just as I have done.