Name: Cassidy Khatcherian
From: Pompano Beach, Florida
Grade: 12
School: Pompano Beach High
Votes: 0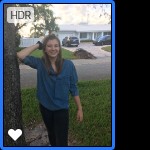 For beyond the past five years, Holy Cross Hospital has had volunteers come in and help the
staff, patients, and visitors. They help sew blankets for the
newborns, or deliver flowers from a loved one to a patient, or just
help the nurses with their rounds.
During these past five years, I have had the opportunity to become one of
those volunteers. Starting in the gift shop, and growing to go to the
Neonatal Intensive Care Unit, Postpartum, and Labor and Delivery. I
was able to learn so much from my work there. It has affected me,
changed me. From volunteering I learned patience and kindness and
compassion and medicine and that not everything is in control, but
that's ok, and that time heals, and that what doesn't kill you does
make you stronger. My urge for compassion grew.
This experience working at Holy Cross really helped me grow my love and
passion for helping others. I've seen a baby being delivered, and
aided and supported and comforted the staff and visitors and
patients. The most inspiring part though was working in the NICU with
the sick and premature children. I'd walk in and see four-pound
babies with feeding tubes in incubators, and it's not the brightest
sight. For most people it's rather depressing or stomach turning,
to be in a place where there are these helpless innocent sick infants
that are in such need, unable to fight, defend, or even speak for
themselves. Although, working there long enough, I learned that many
of these children get better. That that's exactly what they were
there for, to get better. They had a team of nurses, doctors, family
members, friends, and even volunteers, ready to stand up for them and
help them get through whatever they were struggling with. This is
what made my time there so spectacular, seeing the poor innocent
weak, being healed.
This is what is exactly what is inspiring me to follow a path of medicine.
Working there, seeing these babies healing by the hands of their
elders, I discovered that's what I want to do. I aspire to learn as
much information as I can, so that I too one day will be able to help
in the process of amelioration. To see the direct positive effect, I
can have on these vulnerable babies.
The goal is to get into a university and study Biology, get my degree
after four years, then go to physician assistant school, where I will
be for approximately two years, until I can get my final medical
degree. From there I hope that I will be able to do a residency in a
pediatric or neonatal program, and become the people I once admired
so much.
Growing up I've always been compelled by compassion, and I aspire to be
able to use this drive to one day help children and infants, to
improve their lives and health, to the same degree their recovery
taught and helped direct me.