Name: Yonah Benstein
From: New York City , New York
Grade: graduated in 2015
School: Sde Boker Environmental High School
Votes: 0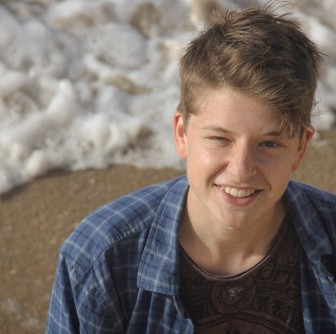 Connecting the blind and deaf to the world
by Yonah Benstein
When I was in my senior year of high school I decided to be released from
my mandatory service in the Israeli army for "conscientious
objection". Instead I was inspired to try and create meaningful
change in my country and in the lives of many people. I decided to
volunteer 8 hours a day for two years at a blind and deaf theater
named "na lagaat".
"Na lagaat" or "please touch" in Hebrew, is a cultural center that provides work opportunities for
the blind and deaf community and is also a place for equal dialogue between the blind and deaf
community and the general public.The center has a theater that is currently showing 5 plays staring blind
and deaf actors, an event hall with deaf waiters and a restaurant in complete darkness with blind waiters.
During my time at the "na lagaat" theater I got the chance to do so many diverse jobs
everyday. I worked in the restaurant- connecting the kitchen to the
blind waiters, in customer service, office work, building and taking
apart sets on a weekly basis, maintenance work: fixing anything in
the center that needed fixing. I definitely have become quite a
handyman during my time volunteering.

But without a doubt the most meaningful thing I got to do was learn sign language and work at
the theater as a interpreter for the blind and deaf actors, in addition to having small roles and tasks in the plays.
Through this job I got to meet the most amazing people I have ever met:
Actors who are both blind and deaf. I helped them get ready for the
shows and communicate with the audience at the end. In addition I
visited them at their homes every week and helped them with any of
their daily tasks- shopping, cleaning, cooking, technology assistance
and also simply having someone to talk to over many cups of coffee.
It's a very humbling feeling to know that during my two years of
volunteering I contributed more than I could ever have imagined. Not
only to the incredible center and to the important work that it does,
but also to the lives of so many blind and deaf people that needed my
assistance and care.
Going in I thought that this will be a chance for me to give back and help
other people through a lot of hard work and compromises on my part,
but I really could not have imagined how much I would be getting out
of this amazing experience. I've learned so much and gained very
valuable skills to succeed in the world, also I got to meet truly
amazing people and found acceptance in a group of people that felt
like outcasts many times in their life.  I learned that if you
give someone the right tools and believe in them, no matter in what
situation or condition they are in, they can accomplish great things.
And surprise you for the better.