Name: Alexandra K. Pedraza Menéndez
From: Charlotte, North Carolina
Grade: Junior
School: Ardrey Kell High School
Votes: 0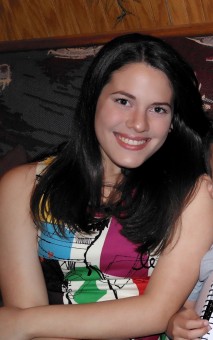 Experience
is the Key:
Experience
is what builds and changes a person's personality as a human being,
and with every experience comes a lesson which we either learn from
it or take it as personal. Volunteering is an experience unlike other
where you help a specific community without any paying and go through
learning experience where you learn how to give without anything in
return.

The
volunteer experience that I chose to participate was in the Bright
Knights club where we get to tutor kids from a poor community through
school subjects they have difficulty in. Just the thought of getting
to help a student gets me excited, since I pretty much enjoy helping
people especially kids. I get to volunteer every Monday for an hour,
and in those hours, I can get to talk, help, and teach my wonderful
student which I much enjoy. The satisfaction of helping a person
brings joy to my heart knowing that that student has a bright future
ahead of them, and I helped him/her get to that position.
From
my volunteering in Bright Knights I got the privilege to teach this
wonderful student called Sebastian. Sebastian was a 5th grader who
loved to talk and share stories; every time I heard him talk filled
happiness to my heart and I surely had fun with him. Although
Sebastian was a sweetheart and a funny person he didn't had the best
grades. I tried my 100% best on helping him, but he still struggled,
and as a Highschool student I get it. So one day I sat down and
instead of trying to finish with homework I asked him "What do you
want to be when you grow up?". After I asked him that I saw a
sparkle in his eyes when he said he wanted to be a firefighter. He
was so passionate about being a firefighter that he even stood up and
started telling me the reasons of why he admired them so much. And at
that moment was when I realized the real reason of why I was
volunteering there; it was because this kids who are innocent,
passionate, and loving have a dream and it will fill my heart with
joy if I get to help him get to his dreams.
This
experience of meeting Sebastian and having the privilege on
teaching/helping him taught me to be more determined and responsible.
After some days of hard work and determination Sebastian and I made
it. One day he showed me his grades which I was in shock when I saw
he passed all his classes with A's and B's. That made me so happy
of knowing that Sebastian's dream of having good grades and
becoming a firefighter can come true. And I am sure that this
experience can be the key for more opportunities in the future for me
to open my heart to people and help them reach their dreams and
goals.