Name: Peyton Janel White
From: Canton, OH
Grade: contactpeytonwhite@gmail.com
School: contactpeytonwhite@gmail.com
Votes: 0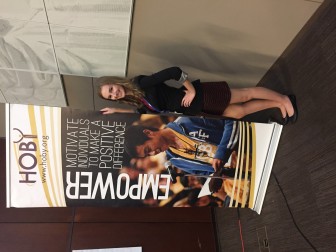 The experience that pushed me to serve others was Hugh O'Brian
Youth Leadership. When I represented Jackson High School at my first
Ohio seminar two summers ago, I had never been a part of a more
overwhelming supportive environment. The people at HOBY inspired me
to get involved in my community.
Since my first seminar, I've worked with a
variety of organizations in my own community such as the Akron-Canton
Regional Food Bank, Second Chance for Animals, runCanton, and Wishes
Can Happen. I've channeled my passion for
the performing arts into service as well. Last year I worked as a
volunteer usher at Playhouse Square through the STARS program.
Through STARS, I was able to learn how a professional theater is run
and how Playhouse Square functions as a nonprofit organization.
Another way I explored my interests was the kids musical theatre camp
hosted by Jackson School for the Arts. As the artistic director, I
was able to apply what I had learned in my arts courses to teaching
others. By the end of the week, I had a taste of what directing is
like and gained a new appreciation for the people who have guided me
to become a better performer over the years. These opportunities were
a perfect way to not only serve my community but to gain experience
as I plan to study theatre and arts administration in college.
I plan to keep service in my life and continue to have experiences such
as these. HOBY allows me to reignite my love for service each year
and be surrounded by people who share that love. The first seminar
pushed me to attend international seminars through the organization.
HOBY World Leadership Congress brought together four hundred students
from fourteen different countries. This was a huge week for us to
open our minds to global citizenship, and meeting all of the other
students was a lesson in itself. This past summer, I attended HOBY
Advanced Leadership Academy and learned about project management and
entrepreneurship. I earned college credit by developing an action
plan for a service project that was applicable to my own community.
The skills I've developed in these programs will shape the way I serve others in the future.
I know that no matter where life takes me, I'll
always look forward to returning to my local HOBY as a staff member.
Passing on my favorite high school experience to others means the
world to me, and inspiring a new group of students to serve means
even more. I'm ecstatic to return this
summer as a junior facilitator and be surrounded by genuinely caring
people.
What service has meant to me is using my passions to lead an impactful
life and leading others to do the same.