Name: Em Mattingly
From: Renton, Washington
Grade: 12th
School: Lindbergh High School
Votes: 0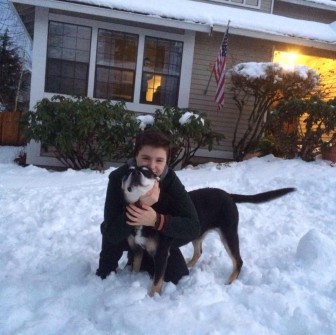 My interest in marine mammals began in 2014 when I visited SeaWorld and
swam with dolphins. I never fully realized I had a passion for marine
mammals until I was up close to one. Once I came home from SeaWorld,
I was so inspired that I applied for a volunteer program at the
Seattle Aquarium called the Youth Ocean Advocates. I have volunteered
at the Aquarium ever since and have contributed over 300 hours during
the last three summers. At the Seattle Aquarium, my passion for
marine mammals only grew more. When I was volunteering, I learned a
lot about Puget Sound's southern resident orca population and spent
most of my time educating Seattle Aquarium guests about how they are
endangered and need our help. Along with orcas, I've been able to
educate the public about otters, seals, and many species of
invertebrates and fish. I've also participated in beach cleanups at
pocket beaches in Seattle. During the cleanups, I picked up garbage
and talked to people on the beach about the effects of trash on the
ocean and marine environment.
I have learned a great deal while volunteering. Since I was young, I
have struggled a lot with social anxiety. Volunteering at the Seattle
Aquarium has given me the ability to conquer my fears and step out of
my comfort zone, especially when doing something I am passionate
about. It has taught me valuable skills in public speaking and has
given me the opportunity to advance my social skills. These skills
will carry on with me throughout my academic and work career. Being
able to see myself grow from being the kid who was too shy to speak
in class to being able to educate my peers has been really life
changing.
Not only has seeing myself grow been empowering, but being able to see
the effects of my volunteer work has too. One moment that really
stood out to me was when I went to clean up a beach right after the
4th of July. Pieces of plastic, styrofoam, empty beer cans, and
various pieces of fireworks littered the beach. It was the most
gut-wrenching thing to see birds picking up pieces of garbage and
eating it. Seeing the beach clean after all the hard work was a
satisfying feeling and I will never forget it.

Before my experience volunteering, I had no idea what I wanted to be when I
grew up. Volunteering at the Seattle Aquarium helped me decide my
career goals and allowed for me to work on what I am passionate
about. I want to be able to help animals hands-on and continue
educating the public about them. I believe that in ten, twenty, and
even thirty years that the conversations we are having right now
about endangered animals won't be the same because of my volunteer
work and the volunteer work of my peers. I hope that my volunteer
work has inspired others to care about animals as much as I do.