Name: Bethany Considine
From: Peoria, Arizona
Grade: High School Senior
School: Raymond S. Kellis High School
Votes: 0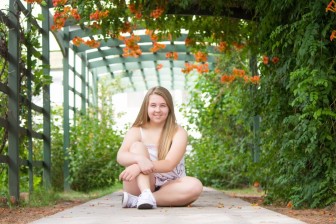 As I entered my high school years I began to see the many
opportunities that were available and was drawn to the Best Buddies
Program, a club where students enrolled in special education classes
are partnered up with a peer mentor. The opportunity to make a
difference in another student's high school experience was not only
a benefit to a special education student (athlete) who might not have
been otherwise accepted, it also increased my knowledge about
different disabilities and their challenges. I joined my freshman
year not knowing exactly what to expect, but I knew I was going to
make a difference for somebody. Best Buddies inspired me to take my
next steps in becoming more involved on campus by joining the Unified
Sports class.
Unified Sports is a class offered at many of the Peoria Unified
School District high schools that allow students in the general
education to develop friendships and play inclusive sports with the
athletes. I have taken the class for five consecutive semesters and
will be interning in the class my final semester in high school. I
have been teamed up with seven different athletes. As I grew as a
leader in Unified Sports I took the initiative to take more
responsibilities, I began to help with more of the registration
process and doing evaluations. I was also given the responsibility of
having multiple athletes as my teammate at one time. The class opened
new opportunities for me to become more involved with Special
Olympics Arizona (SOAZ).
My
sophomore year I applied and was selected for SOAZ State Youth
Activation Committee (YAC) for the Palo Verde area. The State YAC
goal is to activate youth to promote respect, advocacy, and inclusion
for all people with an intellectual disability. The State YAC members
develop strategies, lead initiatives, and organize events to promote
acceptance and inclusion for all people. On the State YAC I have been
to the 2017 Leadership Conference in Tucson where I presented my
story and experiences. Through the conference calls every month with
fellow YAC members, I have heard other people's experiences and
took away some of their ideas to bring to Kellis. I have assisted
with two major fundraisers, Breakfast with Champions and Over the
Edge which I assisted with registration and providing information
about Special Olympics. This past January I was given an opportunity
to go to an Inclusive Health conference, where I was trained to
become a mentor to Team Arizona's Athlete Health Messenger.
Together we are coming up with ways to keep Team Arizona active and
fit. In February I was invited by Jamie Heckerman, Senior Director
of Area Operations and Quality Control, to participate with SOAZ
staff members for the Capital Day on the Lawn. At this event I will
be meeting with a small group of people from my area to speak with
our local legislature about Special Olympics and my personal
experience with the athletes and the organization.