Name: Olivia Ozark
From: Harrison Township, Michigan
Grade: 11th
School: L'Anse Creuse High School
Votes: 90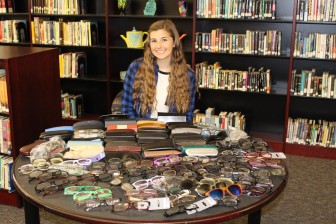 Lenses to the World
Eyes.
They allow us to view the world each and every day of our lives. They
provide us with clear lenses to explore what is in front of us. They
are something many of us cannot live without, yet they are often
forgotten. I decided to change that. I started an eyeglass drive at
my school in order to donate eyeglasses to those who cannot afford
them. As someone who is young and dedicated, I knew that I could make
a difference. I chose this path of volunteer work because I believe
that those people deserve the opportunity to see the world in the
same light as we do.
I have dedicated tens of hours of my life the past couple of years (and
the years to come) ensuring that this act of giving was successful. I
was responsible for advertising the drive as well as counting and
collecting the eyeglasses that were donated (120 pairs!). The most
challenging part of this volunteer act was ensuring that every person
who donated a pair of glasses understood the impact he or she made.
It is not simply about the act of giving; it is about realizing how
that act affects the lives of others. Throughout this experience, I
have been more satisfied with the fact that I am able to help those
who have less than I do. I am able to give them the opportunity to
clearly see the world. I still remember the first time I put a pair
of glasses on. I remember how transparent everything became. I felt
as if I had been missing out on a lifetime of sites. I feel satisfied
knowing that there are people who will be able to experience this
same amazement. In fact, one pair of glasses that was donated went to
an autistic child who was from a low-income family. His teacher
always noticed that he had a different time seeing the board. Once he
received his very first pair of glasses, the teacher saw his grades
improve. His life became just a little bit easier. I hope that in
thirty years, people just like this young boy will remember the first
time they put glasses on and the difference it made in their lives.
This experience was considered to be a "forward looking" one, meaning it allowed me to learn
something about my future and the future of others. I learned that I
want to be an ophthalmologist. I have also learned that helping
others brings about a feeling of positively that no one can take away
from you. I want to help people see the beauty in this world one pair
of glasses at a time.